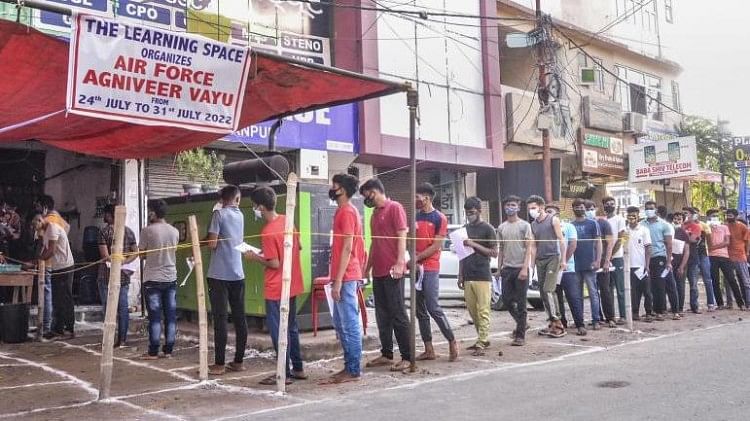 On Sunday morning, July 24, the first exam for the new "Agnipath" recruitment scheme—which would lead to Indian Air Force recruitment—began nationwide amidst intense police surveillance.
Many cities across the country including Delhi, Kanpur, and Patna, are holding this exam. This exam will be conducted all around the country will be conducted from 24th to 31st July.
Under Tight security arrangements, the Agniveer Vayu examination is being conducted in the city of Kanpur. Across all examination centres, Police personnel, as well as Air force officials are deployed for the smooth conduction of the examination. Furthermore, all the examination centres are being monitored by CCTV Cameras and Drones.
The Agniveer Recruitment examination is being conducted in 11 different centres in the city in three shifts. Today the examination will be conducted for a total of 31,875 candidates where 625 will attend the examination in each shift at each examination centre.
The Agnipath recruitment scheme was introduced by the central government. Under the scheme, Army, Navy and Air force will conduct the recruitment process on a contractual basis for a tenure of 4 years. The Scheme is introduced to provide a youthful image to the defence forces as well as cut military expenditure.
After the completion of their 4-year tenure as Agniveer, 75 per cent of 'Agniveers' will be decommissioned with an exit or "Seva Nidhi" package of Rs 11-12 lakh, Along with the monthly package Agniveer will also receive s skill certificates and bank loans for help in their second careers.