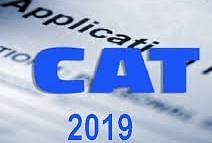 The online registration process for the Common Admission Test (CAT) will be held from August 7, 2019, by the Indian Institutes of Management, Kozhikode. The detailed official notification regarding this has been released on the official website of the IIM CAT - 2019.
According to the official notification, the online registration process for the IIM CAT 2019 examination will be commenced from August 7, 2019, to September 18, 2019. The CAT 2019 Admit Card will be released on October 23, 2019, and the Common Admission Test (CAT Exam) will be held on November 24, 2019. 
The Indian Institutes of Management will conduct a computer-based Common Admission Test 2019 (CAT 2019) on Sunday, November 24, 2019, in two sessions. The test will be held in 156 cities and candidates will be given options to select four cities in order of preference.
According to Prof. Shubhasis Dey, Convener, CAT 2019, "Cities and centres will be assigned to the candidates only after the last date for CAT 2019 registration and hence candidates need not rush to block slots and cities in the initial days of registration."
Note:
 Tutorials to understand the format of the Common Admission Test (CAT 2019) will be available on the website from October 16, 2019. Detailed information on CAT 2019 can be obtained from the CAT website.
Important Dates:
Opening Date of Registration:
August 07, 2019 (10:00 am)
Closing Date of Registration:
September 18, 2019 (5:00 pm)
Admit card Download Date:
October 23 – November 24, 2019
CAT Examination Date:
November 24, 2019
Result declaration Date:
2nd week of January 2020 (Tentative)
Registration Fees:
For SC, ST and PwD category candidates - ₹950
For all other categories of candidates - ₹1900
Payment Mode:
Online
How to Apply:
Before applying for the CAT 2019 examinations, candidates are advised to visit the official website and read the detailed advertisement of the concerned IIM and specific programmes to ensure accurate and updated information on the programmes they want to apply for, including eligibility criteria and admission procedure.
CAT 2019 Eligibility Criteria:
The candidate must hold a Bachelor's Degree, with at least 50% marks or equivalent CGPA [45% in case of candidates belonging to the Scheduled Caste (SC), Scheduled Tribe (ST) and Persons with Disability (PWD) categories].
About CAT Exam:
The duration of the test will be 180 minutes. There will be three sections:
Section I:
Verbal Ability and Reading Comprehension
Section II:
Data Interpretation and Logical Reasoning
Section III:
Quantitative Ability
Candidates will be allotted exactly 60 minutes for answering questions in each section and they will not be allowed to switch from one section to another while answering questions in a section.
Important Links CAT 2019:
INFORMATION SOURCES
CAT website:
www.iimcat.ac.in
Help Desk Number:
18002090830