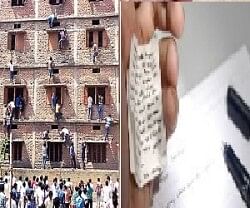 New Delhi
A week after invigilators were booked for helping students to cheat during Uttar Pradesh board exam, Chief Minister Yogi Adityanath has banned demonstration and strikes in colleges and universities across the state.
"The UP government on Friday banned all forms of strikes in colleges with immediate effect. The ban is put under the stringent Essential Services Maintenance Act (ESMA) and will continue till June 30," reports The Times of India.
The ban comes days after UP board 600 invigilators were replaced and 1,500 students caught cheating during exam. The state government has started keeping track on invigilators.
While the class X UP Board English exam was cancelled on Monday, the question paper was reportedly circulated via Whatsaap.