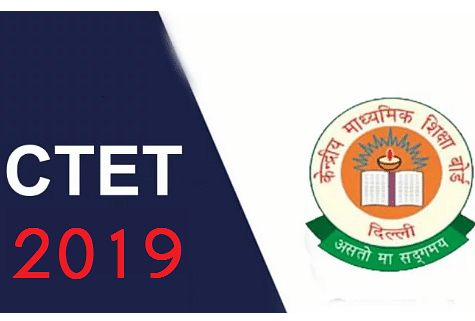 As the aspirants know that the CTET Exam 2019 is scheduled to be conducted tomorrow i.e. July 7, 2019, and it is very important for you to go through the exam pattern check out the subjects you are less confident about.   
CTET 2019 is an important examination for those who aspire to become teachers. This has become a mandatory qualification to be selected or the post of teachers at different levels.
After receiving a CTET qualification, you can become a government schoolteacher, as well as a teacher in aided or unaided private schools across approximately 100 cities in the country. CTET 2019 will open avenues for teaching at different levels for candidates interested in the professional.
If you are preparing for CTET 2019, here is everything you should know about its syllabus and exam pattern. This article will help you know complete details about CTET 2019 exam pattern and syllabus. 
The national level CTET 2019 exam will be conducted by the CBSE on July 7, 2019. The exam will be conducted at two levels, Paper 1 (Primary Stage) and Paper 2 (Elementary Stage). Both the papers will be conducted on a single day in different shifts.  The Central Teacher Eligibility Test (CTET) will consist of Multiple Choice Questions (MCQs) which will be of one mark each. There will be four alternatives out of which only one answer will be correct. There is no negative marking.
 
CTET EXAM PATTERN 2019
CTET 2019: Paper 1 Class (I-V) Exam Pattern
| | | |
| --- | --- | --- |
| Subject | Questions Asked | Marks |
| Child development and pedagogy | 30 | 30 |
| Language 1 (English/Hindi) | 30 | 30 |
| Language 2 (English/Hindi) | 30 | 30 |
| Mathematics | 30 | 30 |
| Environmental Studies | 30 | 30 |
| Total | 150 | 150 |
CCTET 2019: Paper 2 Class (VI-VIII Exam Pattern
| | | |
| --- | --- | --- |
| Subject | Questions Asked | Marks |
| Child development and pedagogy | 30 | 30 |
| Language 1 (English/Hindi) | 30 | 30 |
| Language 2 (English/Hindi) | 30 | 30 |
| Science & Mathematics or Social Studies | 60 | 60 |
| Total | 150 | 150 |
CTET EXAM SYLLABUS 2019
CTET 2019: Paper 1 Class (I-V) Syllabus: This paper is for a person who intends to be a teacher for classes I to V. See CTET Syllabus for Paper 1
1. Child Development and Pedagogy
Child Development Topic
(15 Question)
Concept of Inclusive education
(05 Question)
Learning and Pedagogy
(10 Question)

1. Development Concepts.
2. Influence of Heredity and Environment.
3. Principles of the development of children.
4. Socialization processes
5. Piaget, Kohlberg and, Vygotsky.
6. Critical perspective of the construct of Intelligence.
7. Multidimensional Intelligence.
8. Language & Thought.
9. Gender as a social construct.
10. Concepts of child-centred & progressive education.
11. Distinction B/w Assessment for learning and assessment of learning.
12. Formulating appropriate questions for assessing the readiness levels of learners.
 
1. Addressing the Creative, Talented, Specially abled Learners.
2. Addressing the requirements of children with learning 'impairment', difficulties.
3. Addressing learners from diverse backgrounds.
 
1. Cognition & Emotions.
2. Motivation and learning.
3. How children think and learn.
4. Basic processes of teaching and learning.
5. Child as a problem solver and a 'scientific investigator.
6. Factors contributing to learning – personal and environmental
2. Language I
Comprehension: Grammar and verbal ability and passages
Pedagogy of Language Development: Role of speaking & listening, Principles of Language Teaching, Language Skills, Acquisition, Remedial Teaching
 
3. Language – II
Comparison:  Comprehension, verbal ability and grammar
Pedagogy of Language Development:  Principles of Language Teaching, Evaluating language comprehension & proficiency, Learning and acquisition, and Remedial Teaching
 
4. Mathematics
Numbers
Geometry
Weight
Money
Addition and Subtraction
Time
Data Handling
Patterns
Volume
Evaluation through formal and informal methods
Solids around
Diagnostic and Remedial Teaching
Measurement
Division
Community Mathematics
Language of Mathematics
 
5. Environmental Studies
Concept and scope of EVS
Discussion
Significance of EVS integrated EVS
Plants
Relationships
Animals
Learning Principles
Work and Play
Activities
Approaches to presenting concepts
Scope & relation to Science and Social Science
Experimentation/Practical Work
Environmental Studies & Environmental Education
CTET 2019: Paper 2 Class (VI-VIII) Syllabus:  This paper is for a person who intends to be a teacher for classes VI to VIII. Both paper I and paper II has three basic subjects that are common to all these subjects are Child Development & Pedagogy, a language I and Language II and few specific subjects which depends upon the subject opted by the teacher like Mathematics, Science, Social and environmental studies
1. Child Development and Pedagogy
 
Child Development Topic
(15 Question)
Concept of Inclusive education
(05 Question)
Learning and Pedagogy
(10 Question)

1. Development Concepts.
2. Influence of Heredity and Environment.
3. Principles of the development of children.
4. Socialization processes
5. Piaget, Kohlberg and, Vygotsky.
6. Critical perspective of the construct of Intelligence.
7. Multidimensional Intelligence.
8. Language & Thought.
9. Gender as a social construct.
10. Concepts of child-centred & progressive education.
11. Distinction B/w Assessment for learning and assessment of learning.
12. Formulating appropriate questions for assessing the readiness levels of learners.
 
1. Addressing the Creative, Talented, Specially abled Learners.
2. Addressing the requirements of children with learning 'impairment', difficulties.
3. Addressing learners from diverse backgrounds.
 
1. Cognition & Emotions.
2. Motivation and learning.
3. How children think and learn.
4. Basic processes of teaching and learning.
5. Child as a problem solver and a 'scientific investigator.
6. Factors contributing to learning – personal and environmental
2. Language I
Comprehension: Grammar and verbal ability and passages
Pedagogy of Language Development: Role of speaking & listening, Principles of Language Teaching, Language Skills, Acquisition, Remedial Teaching
 
3. Language – II
Comparison:  Comprehension, verbal ability and grammar
Pedagogy of Language Development:  Principles of Language Teaching, Evaluating language comprehension & proficiency, Learning and acquisition, and Remedial Teaching
 
4. Mathematics
Number System
Algebra
Geometry
Mensuration
Data Handling
Arithmetics 
5. Social Studies 
Ancient History
Medieval History
Modern History
Geography
Social and Political Life
Pedagogical issues 
Note: For Detailed syllabus of classes VI-VIII, please refer to NCERT syllabus and textbooks