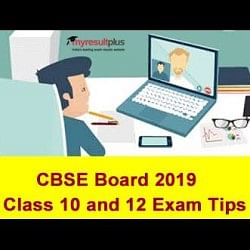 It is the time for the board exam, do not panic. Revive what is read. Do not try to read new books or new syllabus. This can also mess you up as you're already read too much.
CBSE Regional Officer Ranbir Singh, who reached the Amar Ujala Helpline, answered the same questions of students and parents. He said that this time it is time to make preparations while controlling the mind. Here are some special questions and their answers.
Question:
I am a student of 10th. I have been preparing for the exam but I do not understand what to read? - Rohan Mishra, Roorkee
Answer:
Focus on revising what you have read over a year. Do not be afraid to read new things. This can affect your old reading too.  
Question:
Our children are in tension because of board exams. How to explain them? -Man Singh, Kotdwar
Answer: Look, the responsibility of parents is the most important. Parents do not compare their children to other children. Everyone has their own capabilities. Do not discuss too much in relatives. Let the child prepare comfortably. Try to help him emotionally.  
Question:
I am a 12th student. How do I get sample papers? Will it be beneficial? -Ashutosh, Tehri
Answer: All sample papers uploaded on the board's website. Apart from this, sample papers have also been sent to all CBSE schools. If the student wishes, he can contact his school in this regard. From sample paper, you will understand the pattern of the paper.
Question:
Will reading from past years make it easier to take exams? Old questions can also repeat? -Ankita, Haridwar
Answer:
It has the advantage of reading past years of paper that you know the trend of board questions. Rather than thinking of a question repetitive, it would be better if you try to understand the trend.
Question:
When will the 10th result come? Can anyone remove Parsext from any of the five topics? -Kavita Agrawal, Vasant Vihar
Answer:
The result of board examinations will come from time to time. Parentage is taken out based on five subjects, instead of any of the five subjects.  
Question:
My mathematics topic is weak. Can it be passed by adding an additional topic? -Eisha Semwal, Uttarkashi
Answer:
Practice mathematics. There is no need to fear this. Mathematics comes in the category of the main subject, so it must be passed in. Cannot pass only from an additional topic.
Question:
In the board exam only questions from NCERT books will be asked or will come from other books also. -Anil Kumar, Vasant Vihar
Answer:
The pattern of CBSE is NCERT based. Obviously, questions related to NCERT books will be asked.  
Question:
How many hours should be prepared for the board exam? -Ashish, Rajpur road
Answer:
Make a timetable for the preparation of board exams. Prepare it accordingly. If there is a problem, then discuss with your teacher. Rigorously read instead of reading 15 hours, so that your routine may not affect sleep etc.  
Related Articles

on Exam Alerts