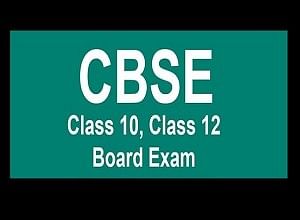 The entire schedule of CBSE class 10, 12 exam schedule is going to be release by The Central Board of secondary Education (CBSE).
The schedule will be released on October 5, 2018. The schedule will available on the official website of the board that is cbse.nic.in
The board exams are usually conducted in the month of March, whereas 2019 board exam will be held in the month of February as per Delhi High Court order.
The order directed to ensure the dates of the re-evaluation should not get a clash with the Delhi University's Cut-off dates.  
CBSE has decided to hold exams for Skill Education (Vocational) and related subjects in the second half of February for the ensuing Board exams of Classes 10 and 12 to be held in 2019.
However, examinations for all the Core Academic subjects, such as Languages, Mathematics, Physics, Chemistry, Biology, Geography, Economics, Business Studies, Accountancy, Economics etc., will continue to be held in the month of March at the external examinations centers fixed by the Board.
The exams for Typography and Computer Application (English), Web Applications, Graphics, Office Communication, and more will be conducted by the board apart from the other vocational subjects.
The advantage of the February exam will be that the time for re-evaluation will be sufficient and will not clash with the admission to the other varsities admission time.  
In CBSE Class 10 Result 2018, Prakhar Mittal was the Topper from DPS Gurgaon, His Total marks are 499.
Even Rimzhim Agarwal from R P Public School, Bijnor; Nandini Garg from Scottish International School, Shamli; Sreelakshmi G from Bhavan's Vidyalaya Cochin has scored the 499 scores.
Whereas CBSE 2018 class 12 result, Girls outshine boys, with Meghna Srivastava, from a Noida school, topping the examination this year.
The overall pass percentage was 83.01 percent as against last year's 82.02 percent.
Girls did better than boys with a pass percentage of 88.31 percent against boys' 78.99 percent, officials at the CBSE headquarters said here.