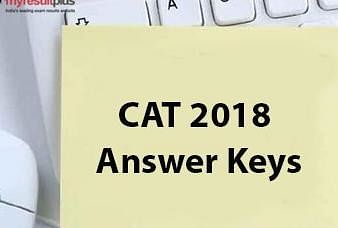 The IIM Calcutta has released the answer key for the CAT 2018 Examination on its official website.
The Answer Key for the CAT 2018 Examination has been released today i.e. December 7, 2018, by the IIM Calcutta on the official website.
More than 2 lakh students appeared for Common Admission Test 2018 conducted on November 25, 2018.


Indian Institutes of Management (IIM) Calcutta, the official organizer of CAT, conducted the prestigious management entrance exam in two shifts.


The answer key for the same has been released today according to a report of TOI.


For the candidates who appeared for the exam can visit the official website and check the answer key.

How to Download the CAT 2018 Answer Key?
Step 1: Visit the official exam website i.e. iimcat.ac.in
Step 2: Click on the option for "Question Paper and Objection Form"
Step 3: Login using your CAT 2018 User Id and password
Step 4: Check the CAT 2018 Questions and Answers
Step 5: Carefully go through the Answer Key
Step 6: If you have any objections against the released answer key, submit them on the portal

How to File Objection on CAT Answer Key 2018?

Step 1: Visit the official website of CAT 2018 i.e. iimcat.ac.in
Step 2: Login to the portal using your CAT 2018 User ID and Password
Step 3: Click on the 'Objection Form' tab
Step 4: Click on the '+' sign on the tab
Step 5: Select Section, Question Number
Step 6: Select Type of Objection from the options given below
Option (i): None of the options is a correct answer
Option (ii): More than one option is a correct answer
Option (iii): Answer Key is incorrect

Step 7: Add remarks for the objection (Word Limit for this will be not more than 500 words)
Step 8: Submit the Objection
Step 9: Pay the requisite fee for raising the Objection i.e. Rs 1000 per question

The question paper was based on had three sections - Verbal Ability and Reading Comprehension, Data Interpretation and Logical Reasoning and Quantitative Ability. Each section was allotted 60 minutes.

CAT exam was conducted by IIM Ahmedabad IIM Ahmedabad, Amritsar, Bangalore, Bodh Gaya, Calcutta, Indore, Jammu, Kashipur, Kozhikode, Lucknow, Nagpur, Raipur, Ranchi, Rohtak, Sambalpur, Shillong, Sirmaur, Tiruchirappalli, Udaipur and Visakhapatnam.

The exam is conducted for the admission to the management programmes of the above-mentioned cities.
IIMs call students for the further selection procedure on the basis of the score in CAT examination and other pre-defined criteria.
Related Articles

on Exam Alerts