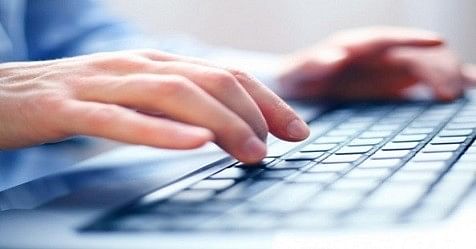 The online application process for Common Admission Test or CAT 2018 will start on Wednesday, August 8.  The last date of registration is September 19.
However,
Indian Institutes of Management
will conduct computer-based CAT 2018 on November 25 in two sessions.
Simple steps to apply for CAT 2018 as follows: 
Step 1: Visit iimcat.ac.in.
Step 2: Go to the Know More section.
Step 3: Click on CAT 2018 Advertisement/ CAT 2018 Information Bulletin.
Step 4: Read the instructions and register for CAT 2018. 
CAT Syllabus 2018:
Quantitative Aptitude (QA) tests concepts from topics covered in Mathematics up to the level of 10th grade.
Verbal Ability (VA) is focused on testing candidates' basic understanding of English Language (ability to read and comprehend long paragraphs from varying genres, high-schools grammar and composition, identify the logic in sentence constructions).
Data Interpretation (DI) & Logical Reasoning (LR).
Data Interpretation essentially includes data in the form of tables, charts and graphs based on which candidates have to submit responses.
Logical Reasoning involves different types of puzzles.
Highlights 
In 2017, CAT exam was conducted on November 26, 2017. The result for CAT 2017 was declared on January 8, 2018. 
CAT 2018 will be held on November 25, 2018.
The Registration/Application Form for CAT 2018 will require the candidates to fill up their Academic Details, upload their Photograph, their scanned Signature, and category certificates, as per the formats for CAT 2018, prescribed by the IIMs.
The Online Application Form for CAT 2018, shall consist of Programme details on all the 20 IIMs. 
On receiving the Login credentials, the candidates must log in the Application window and fill up the Online Application Form, which has the following areas to be filled up:
Personal Details
Contact Details
Academic Details
Work Experience
Selection of IIMs to apply for
Selecting the Test Centers and the Interview Cities
Sections                                                                       Questions        Time Allotted (In Minutes)    Maximum Marks Allotted
Verbal Ability And Reading Comprehension (VARC)            34                       60                                       102
Data Interpretation And Logical Reasoning (DI & LR)           32                       60                                        96
Quantitative Ability (QA)                                                        34                       60                                        102
Total                                                                                       100                   180                                        300
Note: 
CAT exam pattern has been changed several times in the past years by the conducting IIMs. Since 2015, the CAT pattern, with respect to the duration and total questions, have remained the same.
The Common Admission Test is one of the most competitive tests held in India annually. The CAT can be undertaken by graduates from almost all streams.   
Related Articles

on Exam Alerts