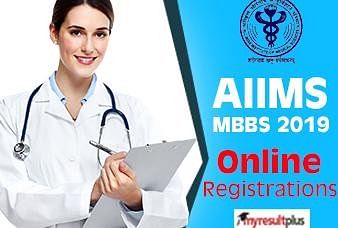 AIIMS MBBS 2019: The Basic Registration process for AIIMS MBBS 2019 began from November 30, 2018.
The online application process has been initiated by the All Indian Institute of Medical Sciences (AIIMS), New Delhi.


The candidates who wish to apply for the examination, can visit the official website and fill the registration forms before January 3, 2018.

How to Apply?

Steps to apply for the AIIMS MBBS 2019:
Step 1: Visit the official website i.e. aiimsexams.org
Step 2: Click on the basic registration link, it will be redirected to a new website i.e. ugcourses.aiimsexams.org
Step 3: In the new window click on the basic registration tab
Step 4: Fill in the required details as mentioned on the page
Step 5: Once registration process completes, click on 'Submit'
Step 6: Download it, and take a print out for further reference.
The process has been initiated well in advance this year for AIIMS MBBS entrance examination.

A majority of application form rejections are due to improper filling of details other than educational qualifications, as it has been noticed from the past experiences.
Eligibility Criteria: AIIMS MBBS 2019
Educational Qualification
The candidates who wish to appear for the examination should have passed or be appearing or have appeared (and awaiting for the result) for class 12 examination or its equivalent with the subjects including English, Physics, Chemistry and Biology with at least with 60 per cent.
For the candidates who belong to the SC/ ST/ OPH category, the aggregate score should be 50 per cent.
AIIMS MBBS registrations will be a two stage process comprising of Basic Registration and Final Registration, after taking this issue into consideration.
The entrance exam for AIIMS MBBS is expected to be conducted on May 25, 2019 and May 26, 2019 next year.
As for the Final Registration, the expected date for it is first week of February 2019.
AIIMS MBBS 2019: Basic Registration or First Stage
In the first stage, the candidates who wish to appear for the Entrance exam if AIIMS MBBS in future will be able to initiate register by filling the basic details and uploading images almost six months in advance.
According to the statement, "the candidates will be informed whether their registration is accepted, and accordingly their details will be stored with an unique identification number.

Like this the candidates need not rush at the last moment and need not fear of not getting a chance to make amendments in their applications."
No payment will be collected at the stage I as the Basic Registration Process is free of any charges.
 
AIIMS MBBS 2019: Syllabus in detail
Physics
1. Kinematics
2. Laws of motion
3. Electrostatics
4. Magnetism and magnetic effects of Current
5. Rotational mechanics
6. Current Electricity
7. Optics
8. Electromagnetic Waves
9. Nuclei, atoms and its structure
10. Modern physics
Chemistry
1. Classification of Elements
2. Solid state
3. Surface Chemistry
4. Solid state
5. Structure of Atom
6. Chemical Bonding and Molecular Structure
7. Properties of Matter- Gases and Liquids
8. Chemical Kinetics
9. p- block elements
10. d and f block elements
11. Haloalkenes and Haloarenes
12. Polymers
13. Aldehydes, Carbooxylic acids
14. Organic compounds containing Nitrogen
Biology
1. Cell structure and function
2. Human physiology
3. Reproduction
4. Genetics and evolution
5. Biology and Human welfare
6. Biotechnology and its applications
7. Ecology and environment.
AIIMS MBBS 2019: Paper pattern
Physics: There will be a total of 60 questions for this subject.
Chemistry: There will be a total of 60 questions for this subject.
Biology: There will be a total of 60 questions for this subject.
General knowledge: There will be a total of 10 questions for this subject.
Aptitude and logical thinking: There will be a total of 10 questions for this subject.
Related Articles

on Exam Alerts