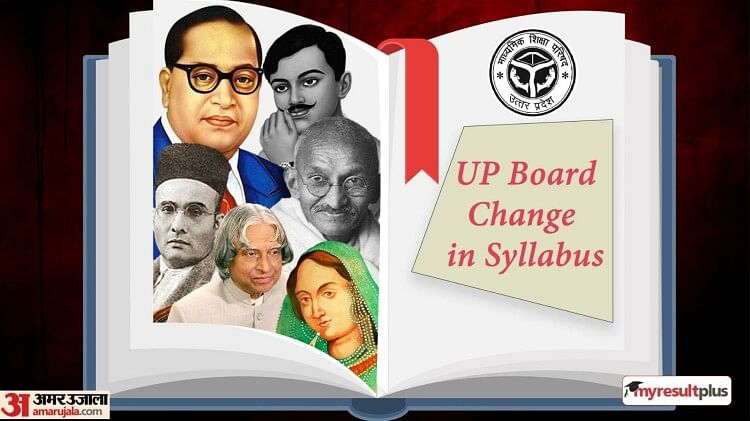 UP Board Syllabus Change 2023: Now, an important change is set to take place in the syllabus of the UP Board. The biographies of 50 Great Men, including Vinayak Damodar Savarkar, have been included in the syllabus under the Uttar Pradesh Secondary Education Council (UPMSP). Additionally, passing this subject will also be a requirement.
UP Board Syllabus Change 2023: Important Details
The UP Board has included the life stories of 50 great men in its syllabus from classes 9th to 12th. These great men, involved in the subject of moral education, include figures such as Chandrashekhar Azad and Ramakrishna Paramhans. Students will have the opportunity to study the life stories of these great men starting in the upcoming session after schools reopen in July.
 
The UP Board deliberated on the selection of these great men for a considerable period of time. Finally, a consensus has been reached regarding their names.
 
The board has officially announced the inclusion of these great men's names in the syllabus. Students will now be able to study the life stories of these remarkable individuals starting in the current session. The wait is finally over for over one crore students studying in classes 9 to 12 across more than 27 thousand government-aided and unaided schools under the board who wished to read the biographies of great men.
 
Great Men included in the Syllabus of Class 9th
Chandrashekhar Azad, Birsa Munda, Begum Hazrat Mahal, Veer Kunwar Singh, Ishwarchandra Vidyasagar, Gautam Buddha, Jyotiba Phule, Chhatrapati Shivaji, Vinayak Damodar Savarkar, Vinoba Bhave, Srinivasa Ramanujan, and Jagadish Chandra Bose.
 
Great Men included in the Syllabus of Class 10th
Mangal Pandey, Thakur Roshan Singh, Sukhdev, Lokmanya Tilak, Gopal Krishna Gokhale, Mahatma Gandhi, Khudi Ram Bose, Swami Vivekananda.
Great Men included in the Syllabus of Class 11th
Ram Prasad Bismal, Shaheed-e-Azam Bhagat Singh, Dr. Bhimrao Ambedkar, Sardar Vallabh Bhai Patel, Pt. Deen Dayal Upadhyay, Mahabir Jain, Mahamana Madan Mohan Malviya, Arvind Ghosh, Raja Ram Mohan Roy, Sarojini Naidu, Nana Saheb, Maharishi Patanjali, surgeon Sushruta and Dr. Homi Jehangir Bhabha.
 
Great Men included in the Syllabus of Class 12th
Ramakrishna Paramhansa, Amar Shaheed Ganesh Shankar Vidyarthi, Rajguru, Rabindranath Tagore, Lal Bahadur Shastri, Rani Lakshmi Bai, Maharana Pratap, Bankim Chandra Chatterjee, Adi Shankaracharya, Guru Nanak Dev, Dr. APJ Abdul Kalam, Ramanujacharya, Panini, Aryabhatta and CV Raman.