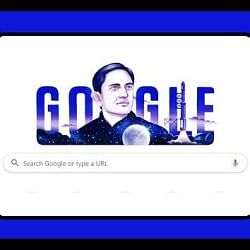 Remembering the 100th Birth Anniversary of the founding father of Indian Space Programme, Dr Vikram A Sarabhai, My Result Plus is sharing some interesting facts related to him.
This article will help aspirants preparing for competitive exams to enhance general knowledge based on historical facts.
Do you know who is Dr Vikram A Sarabhai, Why he's known as the founding father of Indian Space Programme?
Here we will get you to read all these interesting facts…
Dr Vikram Ambalal Sarabhai was born on August 12, 1919. He was an Indian scientist and innovator widely known as the father of India's space programme.
Vikram Sarabhai came from the famous Industrialists family committed to the Indian independence movement. He got married to the classical dancer Mrinalini in 1942. 
Dr Vikram A Sarabhai also known as the cradle of space sciences in India, established the Physical Research Laboratory (PRL) in 1947. He set up the Operations Research Group (ORG), the first market research organization in the country. 
Among the many famous institutes, he helped to set up the following institutions; 
- The Nehru Foundation for Development in Ahmedabad, 
- The Indian Institute of Management Ahmedabad (IIMA), 
- The Ahmedabad Textile Industry's Research Association (ATIRA) and 
- The Centre for Environmental Planning and Technology (CEPT). 
Along with his wife Mrinalini Sarabhai, he founded the Darpana Academy of Performing Arts.
Sarabhai started a project for the construction and launch of an Indian satellite. As a result, the first Indian satellite, Aryabhata, was placed in orbit in 1975 from a Russian cosmodrome.
Held Various Distinguished Positions such as;
- President of the Physics section, Indian Science Congress (1962)
- President of the General Conference of the I.A.E.A., Vienna (1970)
- Chairman of the Atomic Energy Commission of India (1966 to1971)
- Vice-President, Fourth UN Conference on 'Peaceful uses of Atomic Energy' (1971)
- Founder and Chairman, Space Applications Centre (1963 to 1971),
Various Honours he Received;
- Padma Bhushan - 1966
- Padma Vibhushan - 1972 (posthumously)
On his first death anniversary (December 30, 1972), Indian Postal Department had released a commemorative Postal Stamp.
In 1973, the International Astronomical Union named the lunar crater, Bessel A, in the Sea of Serenity as the Sarabhai crater.
The lander on India's moon mission Chandrayaan II is named Vikram in his honour which will finally land near the South Pole of the moon on Sep 7, 2019.
People called Dr Vikram Ambalal Sarabhai as a dreamer. His dream has taken India to the moon today. (CHECK TWEETS)