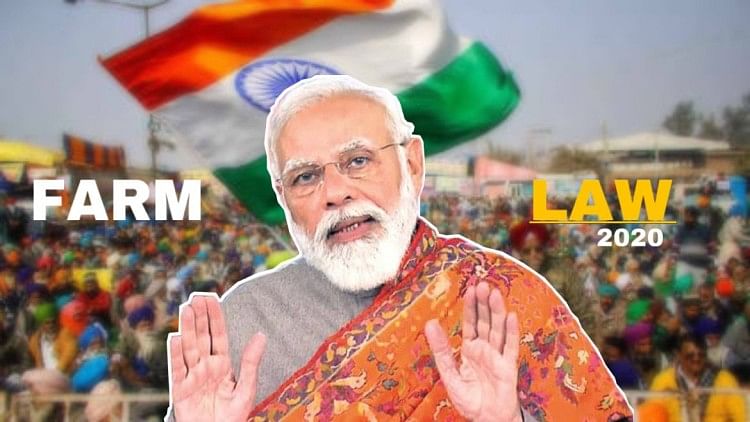 The Indian Prime Minister Narendra Modi on 19th November 2021 announced to repeal of the three farm laws. In September 2020, these laws were passed in the parliament amid the monsoon session. Mostly, the farmers from the state of Haryana, Punjab and Uttar Pradesh were protesting against the farm laws. Out of these 3 states, Uttar Pradesh and Punjab are all set to conduct the assembly elections next year. 
After the conversion of Farm Bills to Farm Laws, the farmers' protests rapidly increased across the country. The farmers continuously demanded the government to withdraw all three farm laws. The farmers also asked the government for a legal guarantee on Minimum Support Prices, MSP. The bills were passed in the Lok Sabha on 17th September and on 20th September, the bills were passed in the Rajya Sabha. Following which the President of India, Ram Nath Kovind gave his assent on 27th September 2020. 
On 12th January 2021, a massive farmers' protest formed due to the Farm laws reached the Supreme Court of India. The court ordered for immediate suspension of the implementation of all three farm laws until further notice. Below we have explained the concept of all three farm laws. 
Farm Laws 2020: Explained
Farmers' Produce Trade and Commerce (Promotion and Facilitation) Act, 2020
As mentioned in various state Agricultural Produce Marketing Committee, APMC, this law granted permission to the farmers to utilise their produced goods for trading outside the physical market. The fear for this bill was created as its implementation would weaken the physical market which falls under APMC. 
Farmers (Empowerment and Protection) Agreement on Price Assurance and Farm Services Act 2020
As per the framework of this law mentioned in sections 3 to 12, the farmers can indulge themselves in contract farming. This means that a farmer can make a direct agreement with the buyer to sell the goods at a pre-determined price before the sowing season. This bill didn't mention the MSP which the buyer has to offer the farmer while purchasing the crops. The government said that this law will enable the farmers to sell and trade anywhere without any legal framework. On the other side, farmers concern was regarding the corporatisation of agriculture. They also believed that this bill is going to erase the MSP scheme. 
Essential Commodities (Amendment) Act, 2020
This law has been formed after an amendment to the Essential Commodities Act, 1955. This gives certain power to the Centre to impose limits on the stockholding of food items. This bill also includes the exclusion of onion, edible oil, and potato from the list of essential commodities.   
In an address to the nation, Prime Minister Narendra Modi said "We haven't been able to explain to our farmers. This is not a time to blame anyone. I want to tell you that we have taken the farm laws back. The agriculture budget has risen by 5 times, over Rs 1.25 lakh crore being spent annually. The goal of the three farm laws was to empower farmers, especially small farmers. Laws were in farmers' benefit but we couldn't convince a section of farmers."