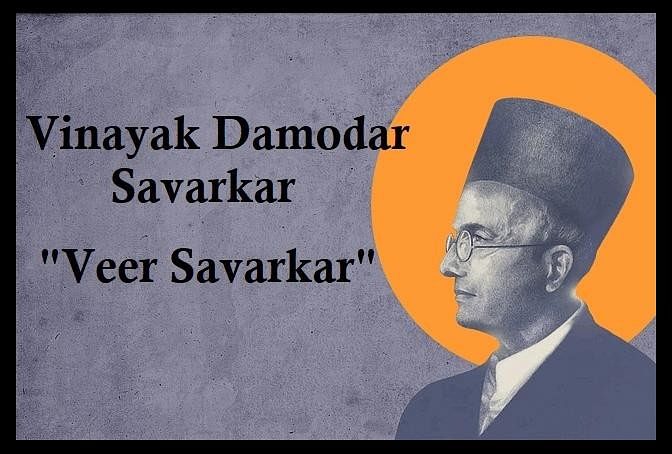 Today is the 138th birthday of Vinayak Damodar Savarkar, one of the most prominent Hindutva ideologies of the twentieth century. He was born to a Brahmin Hindu family on 28 May, 1883, in Bhagur village near Nasik, Maharashtra. Savarkar, also known as Veer Savarkar, became famous for his bravery at the age of 12 after performing a courageous act, earning him the nickname 'Veer.'
He later became a freedom fighter, activist, politician, lawyer, author, social reformer, and the founder of the Hindutva philosophy. Veer Savarkar, developed into a revolutionary as a young man and founded a youth group called 'Mitra Mela,' which he led in revolutionary activities after being inspired to do so by radical political leaders such as Lala Lajpat Rai, Bal Gangadhar Tilak, and Bipin Chandra Pal.
Veer Savarkar earned a Bachelor's Degree from 'Fergusson College' in Pune. He also received a scholarship offer to study law in England and was assisted by Shyamji Krishna Varma. Savarkar then enrolled at Gray's Inn Law School and applied for asylum at 'India House,' where he inspired his fellow Indian students in London to form the 'Free India Society,' which fought the British for independence.
Veer Savarkar considered guerrilla warfare to achieve independence along the lines of the 'Revolt of 1857.' He wrote a book titled "The History of the War of Indian Independence," which inspired many Indians to fight for freedom against the British. Despite the fact that the book was banned in the United Kingdom, it became popular in a number of other countries. Not only that, but he created manual bombs and guerrilla warfare weapons, which he distributed among friends. He also represented his friend Madan Lal Dhingra, who was charged with the murder of a British Indian army officer named Sir William Hutt Curzon Wyllie.
Meanwhile, Veer Savarkar's elder brother in India organised a protest against the 'Indian Council Act 1909,' also known as the Minto-Morley Reform. In addition, as part of the protest, the British Police claimed that Veer Savarkar had plotted a crime and issued a warrant for his arrest. To avoid arrest, Veer Savarkar fled to Paris and sought refuge at Bhikaji Cama's home. On March 13, 1910, he was apprehended by British police, but the French government became irritated because British authorities had not initiated appropriate legal proceedings to arrest Veer Savarkar in Paris.
Veer Savarkar was found guilty and sentenced to 50 years in prison, as well as deportation to Bombay, during the Permanent Court of International Arbitration hearing the dispute between the British and French governments in 1911. On July 4, 1911, he was transferred to the Andaman and Nicobar Islands. He was imprisoned at the well-known 'cellular Jail' of Kala Pani. In jail, he was subjected to severe torture. But his national freedom spirit persisted, and he began teaching his fellow inmates to read and write. He also obtained government approval to establish a basic library in the prison.
During his confinement, he wrote an ideological pamphlet titled 'Hindutva: Who is a Hindu?' And this was widely disseminated by Savarkar's supporters. He influenced several Hindus by describing Hindu as a patriotic and proud inhabitant of 'Bharatvarsha' (India) in the pamphlet. He also claimed that Jainism, Buddhism, Sikhism, and Hinduism are all the same religion. All of these religions, he believes, can contribute to the creation of 'Akhand Bharat' (United India or Greater India).
Vinayak Damodar Savarkar was a self-proclaimed atheist who was always proud of his Hindu identity, which he described as a political and cultural identity. On January 6, 1924, Savarkar was released from prison and played an important role in the formation of the 'Ratnagiri Hindu Sabha.' This organisation aimed to preserve Hindus' social and cultural heritage.
Veer Savarkar was elected president of the 'Hindu Mahasabha' in 1937. On the other hand, at the same time, Muhammad Ali Jinnah declared Congress rule to be 'Hindu Raj,' exacerbating the already simmering conflict between Hindus and Muslims. Veer Savarkar, president of the 'Hindu Mahasabha,' encouraged Hindus to support the British during WWII.
We can't forget that Veer Savarkar was a harsh critic of the Indian National Congress (INC) and Mahatma Gandhi. He opposed the 'Quit India Movement' and later objected to the Indian National Congress' acceptance of partition. He advocated for the coexistence of two nations in a single country.
Some Famous Books of Veer Savarkar
Che Svatantrya Samar, Hindupad Patshahi, Hindutva, Jatyochhedak Nibandh, Moplyanche Banda, Maazi Janmathep ,Kale Pani , Shatruchya Shibirat, Londonchi batamipatre, Andaman Chya Andheritun, Vidnyan nishtha Nibandha, Joseph Mazzin, Hindurashtra Darshan, Hindutva ke Panchpran, Kamala, Savarkaranchya Kavita, Sanyasta Khadag.
Some Famous Movies on Veer Savarkar
Kaala Pani was a 1996 Malayalam film directed by Priyadarshan based on Veer Savarkar. Annu Kapoor played the role of Veer Savarkar. Sudhir Phadke and Ved Rahi also created a biopic titled Veer Savarkar. Shailendra Gaur portrayed Veer Savarkar in the biopic.
A biopic about freedom fighter Vinayak Damodar Savarkar was announced today, on the 138th anniversary of his birth. The film will be directed by Mahesh Manjrekar and will be based on the life of Veer Savarkar. The film's first poster was released today.

On Veer Savarkar's birth anniversary, here are some of his famous quotes to recall
● Oh Motherland, Sacrifice for you is like life! Living without you is death.
● Calmness in preparation but boldness in execution, this should be the watchword during the moments of crisis.
● We yield to none in our love, admiration and respect for the Buddha-the Dharma-the Sangha. They are all ours. Their glories are ours and ours their failures.
● One country, one God, one caste, one mind brothers all of us without difference, without doubt.
Veer Savarkar once said that every person is a Hindu who regards and owns this Bharat Bhumi, this land from the Indus to the seas, as his Fatherland as well as Holyland, i.e. the land of the origin of his religion. Consequently, the so-called aboriginal or hill tribes also are Hindus because India is their Fatherland as well as their Holyland of whatever form of religion or worship they follow.