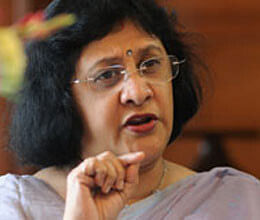 Arundhati Bhattacharya Monday took over as the new chairperson of the State Bank of India (SBI). She is the first woman to be appointed to the top job at the country's largest lender.
Prior to her elevation to the top job, 57-year-old Bhattacharya was managing director and chief financial officer of SBI. She succeeds Pratip Chaudhuri who retired Sep 30.
"Arundhati Bhattacharya assumed charge as chairperson of State Bank of India on Oct 7, 2013," SBI said in a statement.
Bhattacharya joined SBI as a probationary officer in 1977. During her 36-year tenure at the bank she has held a number of important positions, including those of deputy managing director and corporate development officer, chief general manager (Bangalore Circle) and chief general manager (New Businesses).
She also headed SBI Capital Markets Ltd, a subsidiary of State Bank of India and had a stint in the Bank's New York office where she was in charge of monitoring branch performance, overseeing external audit and correspondent relations, SBI statement said.
"She has also played a pivotal role in setting up three of the latest subsidiaries of the Bank viz. the General Insurance subsidiary, the custodial subsidiary and the SBI Macquarie Infrastructure Fund," it said.