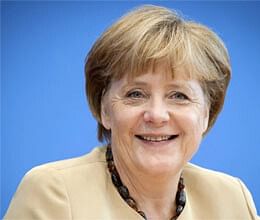 German Chancellor Angela Merkel will be awarded the coveted Indira Gandhi Prize for Peace, Disarmament and Development for 2013 with an international jury headed by Prime Minister Manmohan Singh choosing her.
The announcement was made today by the Indira Gandhi Memorial Trust which said that the award was being given to 59-year-old Merkel for her exemplary leadership in Europe and the world during the financial crisis and her stewardship of German economic growth.
The trust said the prize was being given to the German leader because of the work done by her for promotion of global economic stability, her commitment to universal peace and disarmament and her leadership role in strengthening productive and mutually beneficial relations with India and other developing countries.
Merkel, who became the first woman to be elected as Chancellor of Germany, has been a strong supporter of close relations with India, it said.
Her joint declaration with the Indian Prime Minister greatly strengthened the Indo-German relations, leading to inter-governmental consultations during her state visit to India in 2011 and PM Manmohan Singh''s visit to Berlin in 2013 during which the German participation in the ambitious Green Energy Corridors Project was finalised, it added.