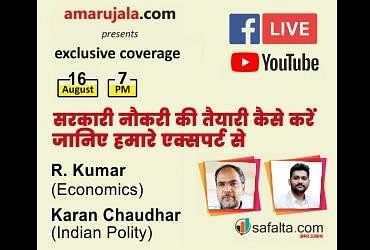 Millions of aspirants preparing for competitive exams experience many kinds of situations. When they appear for SSC/ Bank/ UPSC/ Railway examinations, only a few of them get success in such competitive exams. 
It is not that unsuccessful aspirants don't work hard. There would be a lack of guidance or self-confidence in these aspirants. As we all know, to qualify these examinations the knowledge of the right guidance and strategy is very important. 
To provide aspirants assistance, Amar Ujala has brought this opportunity for the aspirants to clear their doubts. 
We are providing an online counselling session on SSC/ Bank/ UPSC/ Railway exams on Friday,  August 16, 2019, at 07:00 PM.
The online counselling session will be held by the two most famous UPSC Civil Services subject experts;
(i) R. Kumar
(ii) Karan Chaudhary
About R. Kumar Sir:
R. Kumar the subject expert of Economics, holds a wide experience of 8-10 years in the field of Economics. His tricks to prepare Eco. for UPSC Civil Services exam is quite zestful. His preparation tips and learning strategy always help students to score well in the exam. Under his guidance, many aspirants have successfully qualified for the UPSC Civil Services exam.

About Karan Chaudhary Sir:
Karan Chaudhary is the person who emerged as the best and youngest teacher for Polity among competitive exams aspirants. He holds a wide experience in the subject of Polity. Under his guidance, many candidates have secured higher marks in Polity questions asked in UPSC Civil Services exams. He holds 08-10 years of teaching experience in the field of teaching polity.

As we all know GS subject holds the most important section in the UPSC Civil Services exam. Amar Ujala is taking the initiative to help candidates in qualifying the competitive exam. 
So aspirants preparing for competitive exams are invited to join the live counselling session and ask their queries related to the competitive exam and career guidance. 
The live career counselling session of Subject Expert R. Kumar and  Karan Chaudhary will be held on Friday, August 16, 2019, at 07:00 PM. The live session will be conducted on all the social platforms of Amar Ujala. The candidates can find the video for the same on the facebook page of Safalta education portal.