Results : Maharshi Dayanand University
News

From Maharshi Dayanand University
Maharshi Dayanand University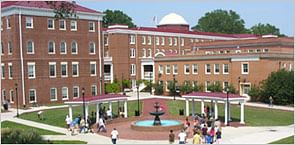 Maharshi Dayanand University, established as Rohtak University, Rohtak, came into existence by an Act No. 25 of 1975 of the Haryana Legislative Assembly in 1976 with the objective to promote inter-disciplinary higher education and research in the fields of environmental, ecological and life sciences.

It was rechristened as Maharshi Dayanand University in 1977 after the name of a great visionary and social reformer, Maharshi Dayanand. It had a unitary and residential character in its nascent stage, but became an affiliating University in November 1978. The University secured the recognition of University Grants Commission – the higher education regulatory body of India - for central Govt. grants in Feb. 1983.

The students studying in MDU, Rohtak can easily access their datesheet/examination schedule, Academic Results, Courses and its eligibility, Admit Card & Exam Notifications just at single click. The students just need to visit our university web page on regular basis to get every latest information on and off the campus. We bring all the latest exam notification and latest updates on academic activities of the university and its affailiate colleges.

Be it entrance examination, semester examination or any other examination of the university ; the students would be able to view every single information on our mobile website also. To make result more user friendly we are keen to give our best to churn out the best possible results to the students.

The University is located at Rohtak in the state of Haryana - about 75 kms from Delhi on Delhi-Hisar National Highway (NH-10), and is about 240 kms from Chandigarh, the State Capital. It is well connected both by rail as well as road. Rohtak is the education hub of the State with excellent facilities for education in all fields of knowledge.

Besides, the University runs some programmes through its Indira Gandhi P.G. Regional Centre, Meerpur (Rewari) and University Institute of Law & Management Studies (ULIMS), Gurgaon. The Regional Centre offers nine P.G. Programmes, while UILMS offers two.

Over 490 Institutions/Colleges of general education, Engineering, Technology, Computer Sciences and Management Sciences located in 10 districts of the State are affiliated to this University.

Amar Ujala Results website aims to cater to the latest Board, University and Sarkari Naukri Results; along with the latest notifications, on Admit Card, Answer Key, Counselling dates and Career/ Exam Preparation tips. Register on Amar Ujala Results Website for fastest results on UP board, Uttarakhand board, Jharkhand board, Himachal Pradesh board, Haryana board, AP (Andhra Pradesh) board, WB (West Bengal) board, and Gujarat board exams.
© 2022-23 Amar Ujala Limited. All Rights Reserved.