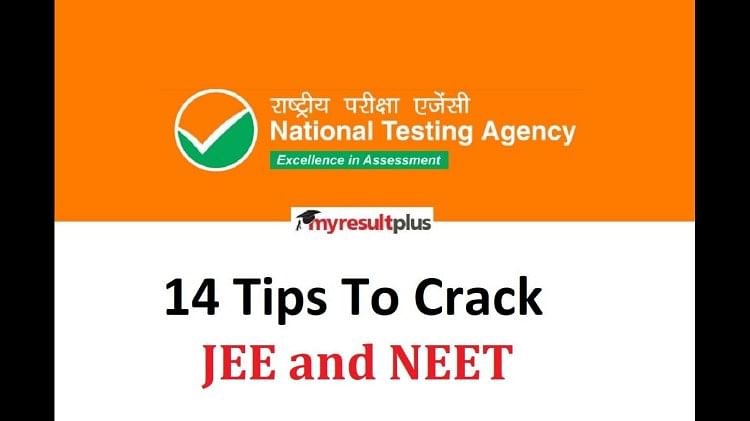 Competitive examination is an obsession among Indian youth, and JEE and NEET are at the peak of that obsession. Every year millions of students dedicate themselves to qualifying for these examinations. But the competition for each seat in the JEE and NEET is tremendously unproportional. 
Therefore, if you want to ace these prestigious entrance examinations, then a meticulous preparation strategy is not only important but also mandatory. Your curated strategy is the only thing that can set you apart from the crowd and add an edge to your qualifying chances.
In this article, we will let you know about 14 tips that have been tried and tested by those who have qualified for these competitive exams. We believe that applying these tips to your routine can help too in cracking these examinations.
1. Focus
: Never let external stimuli distract you from your aim. Make a routine and rigorously adhere to it.
2. Segregate
: Distribute all the topics and then allocate study time to each subject according to your level of ease. Dedicate more time to subjects that you find the subject tough.
3. Clear Your Fundamentals:
Before digging into a complex problem in any subject, understand the fundamentals because they are crucial for you to solve the variation in the questions.
4. Target  NCERT Course:
Both JEE and NEET examinations are based on the syllabus of NCERT. If your concepts for NCERT are clear, then solving all the exercises and NCERT Model papers will get you more accustomed to these Competitive exams.
5. Gather Good Reference Books:
Getting this tip right is extremely important because once you get reference Books they act as a pillar to your preparation. Always Choose reference books that have a positive review in the preparation community. Furthermore, from time to time, try to explore the content from new books as they might help you further enhance your knowledge and introduce you to new problems.
6. Be Internet Savvy:
These days over the internet you can access information from across the world. Moreover, you can take online tests conducted by prestigious universities across the world. This will help you introspect your preparation level and further strengthen your weaker segments.
7. Constant Revision:
Throughout the preparation process you will have to go through numerous topics and if there is a lack of constant revision, then chances are that during the exams there is a chance of confusion.
8. Give Model Test:
This is the best way to analyse the level of your preparation because these tests will let you know where you are standing among the other competitors.
9. Never Compare yourself:
Don't compare your level of preparedness with anyone else. Sometimes it might be that your syllabus is legging in comparison to others but you don't need to rush to complete those chapters to catch up with others. Prepare at your own pace, thoroughly understanding each concept. This will help you in the long run.
10. Solving previous year's question papers:
  This is one of the best ways to analyze the JEE and NEET exams. Solving the previous year's question paper will help you understand the level of difficulty of the JEE and NEET. Once you get the hang of the question, your mind will adjust to the unexpected in the actual papers.
11. Grab as many Mock papers and their analysis:
Mock papers are prepared by scholars and academicians who are teaching throughout the years. Solving Mock paper lets you know about angles and the concepts you have been preparing for the past years. Once you start going through the analysis of these mock papers, the boundary of your understanding enhances drastically.
12. Understand the Exam patterns:
Before preparing for any examination you must have done thorough research about the course syllabus and unit-wise weightage. Knowing this detail will help you understand on what topics more time and effort needs to be invested.
13. Time Management:
This is the most crucial aspect for cracking JEE and NEETS. You might have the answers to all the questions but it is of no use if you cannot do those questions in time. You need to know how much time you ought to allocate to each question. Practising time management can help you ace the JEE/NEET because the examiner has no intention that you solve all the questions.
14: Write Journal:
Everynight, once you are done with your studies take out 10 mins, and write whatever you have worked on that day. Once every week, go through your journal to get a clear introspection of what you have worked on throughout the previous week and how much you can retain today.