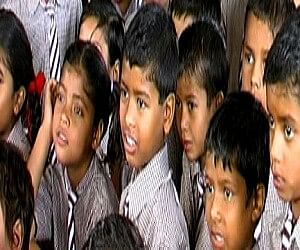 New Delhi
The Uttar Pradesh government has made Aadhaar Card mandatory for students studying in state-run schools.
"The main aim of the government is to link their Aadhaar Card number with different welfare schemes, including mid-day meal, run by the state for the welfare of primary students," said Basic Education Minister Anupama Jaiswal.
The report comes a month after The report comes a month after the Yogi Adityanath government decided to replace the khaki uniform for students in state-run schools with smarter dresses that adhere to Indian culture.
Officials reported that the new school colours will be implemented from the new academic session.
Ajay Kumar Singh, the secretary for basic education in Lucknow said that the idea was put before the chief minister during a presentation in Lucknow on April 3 when Yogi Adityanath took stock of the education department.
From the upcoming academic session, students will be seen in their new uniforms-- a pink-and-white check shirt with a brown collar and brown trousers for boys and a similar shirt with a brown skirt for girls. At the senior level, girl students will wear brown salwar and a red kurta with a brown dupatta.