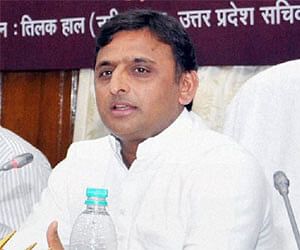 Shiksha Mitras
from all over the state, and in a large number took the march towards the
Uttar Pradesh
assembly on Monday. They were demanding for their jobs to be made permanent and hike in their honorarium. After some time they were stopped by the police.                    
But when they insisted to continue with their march towards the assembly, the police used mild lathicharge to disperse them, a police officer said. The Shiksha Mitras alleged that 10 of them were injured in the lathicharge, but the charge was later denied by the police.
Meanwhile, UP Legislative Council members Raj Bahadur Singh Chandel and Chet Narain staged a dharna to protest the police lathicharge on the Shiksha mitras.
Shiksha Mitras had been protesting and staging dharnas for long since, regarding their pay hike and the permanency of job. Time and again there had been flip-flop in the Uttar Pradesh governments decision. Earlier in the past, the government had promised to meet all the demands of the Shiksha Mitras mentioned above, but nothing had been done yet.
There's a large number of Shiksha Mitras been employed in the Primary schools throughy-out the state. Due to lack of teachers and large number of primary schools in the state, Uttat Pradesh Government took the decision to recruit Shiksha Mitras ten years back. But there has been a meager rise in their salaries since.