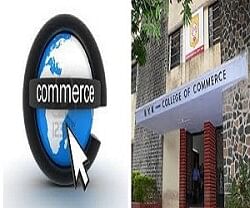 New Delhi
Now that you are almost done with your basic schooling, you must be worried what next? Choosing which college to go to is one of the biggest decisions high school students make. How do you pick the school that's right for you?
If you want to opt for Commerce then there's no magic formula for choosing a college. But there are steps you can take to find a good fit.
Below is a list of top five Commerce colleges.
1. Shri Ram College of Commerce
Contact Details:
Shri Ram College of Commerce
University of Delhi North Campus, Maurice Nagar
Delhi - 110 007
Phone: 011 – 27667905
For general administrative and establishment matters, student's dealings/ requests etc., the Administrative Officer (Admn.) may be contacted at:
ao.admin@srcc.du.ac.in
For matters related to accounts and finance, the Administrative Officer (Accounts) may be contacted at:
ao@srcc.edu
2. Lady Shri Ram College for Women
Contact Details:
Lady Shri Ram College for Women
Lajpat Nagar-IV, New Delhi - 110024, India
Phone: 91-11-26434459, 45494949
Fax: 91-11-26216951
Email : lsrc@lsr.edu.in ,
Vice Principal: vp@lsrcollege.org
Administrative Officer: ao@lsr.edu.in
3. Hansraj College
Contact Details:
Hansraj College,
Mahatma Hansraj Marg
Malkaganj,
Delhi 110 007,
India
Phone : +91-11-27667747, +91-11-27667458
Fax : +91-11-27666338
Email: principal_hrc@yahoo.com, principal@hansrajcollege.ac.in
4. Hindu College, New Delhi
Contact Details:
University of Delhi, University Enclave, New Delhi, Delhi 110007
Phone:011 2766 7184
Fax : 27667284
Email: principal@hinducollege.org, hinducol@del3.vsnl.net.in
5. Madras Christian College, Chennai
Contact Details:
Tambaram, Chennai, Tamil Nadu 600045
Phone: 91-44-22390675, 91-44-22396772
Fax: 91-44-22394352
Email: principal@mcc.edu.in