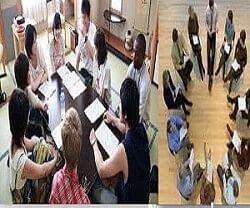 GD or group discussion has become one of the most important milestones to clear and land into a professional course or a job. One must be aware of the dos and don'ts of GD. Some of the tips to clear GD round are mentioned here:
Initiate the GD
If you manage to get the opportunity to become the first speaker, nothing like it. This will show your leadership skills in the very first few seconds and you will also be well remembered by the panelists. Hence, try to be the first one to speak in a GD
Don't lose any opportunity to speak
A person who does not speak or speaks too less is often not selected. Do not lose any opportunity to have your say on the topic.
Give opportunity to others
You must speak and put your views in GD but do not overdo it. You must also lend your ears to others and also give them opportunity to speak. A person who will be able to establish a balance between speaking and hearing will surely be selected.
Don't be aggressive
Remember you are being observed and you should not make any such mistake of showing your rude side.
Talk relevant and crisp
You will be given only few minutes given. There will be many candidates. You will not get enough time to speak so make sure whatever you speak should make sense.
Body language
Pay special attention to the body language. Do not stand up while discussion out of excitement or do not shake your legs or arms due to nervousness. You should maintain a sober poise.
Be attentive
If you are done speaking doesn't mean you can look here and there. Be attentive throughout the GD.