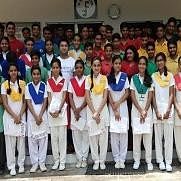 In a bid to provide the students with a Writing and Creative Skills Development Program, Launchora, a storytelling platform has partnered with the Fabindia School in Bali, Rajasthan.
Launchora is a free community of storytellers where people from around the world write, read, share stories and poems about anything and every experience.
The Writing and Creative Skills Development programme started in July 2018, with three workshops taught by Lakshya Datta, Founder & CEO of Launchora, to the students from class VIII to XII.
During these workshops, different aspects of storytelling were introduced, why and how it can complement students' formal education, how a creative skill set is essential, and also about the kind of job opportunities which can be created through this programme.  
About the programme:
Students were given the first of 12 monthly assignments, each of which will help the student explore a different aspect of their emotions and capabilities.
Each month one submission is chosen as the winner, and the student who writes it gets a gift which is designed to improve their writing skills while being a fun and motivational tool.
Beyond the workshops and monthly assignments, the students enrolled in the programme - currently 140 of them - also get weekly educational content from Launchora, provided to them online directly via the Launchora app.
Rajshree Shihag, the Principal of Fabindia School, said, "I appreciate the initiative and Launchora's desire to reach out to the children with such an innovative concept. I am thankful that the young generation can now improve their writing and creative skills through this concept."
This programme is ongoing and will continue to run at the school for years to come, with all students receiving weekly content, monthly assignments, and yearly workshops.
The overall goal of these workshops and the skill development programme is to help students discover their creativity, develop their emotional intelligence, and improve their mental health.
The Fabindia School is the first of many to adopt Launchora's Writing and Creative Skills Development Programme. And just within a few weeks, the results are already showing - the students not only completed their first assignment on time but also interacted with and supported the stories written by their peers.
Lakshya, the founder of Launchora and the mastermind behind the Writing and Creative Skills Development Programme, said "I've learned one thing through all my years of writing, teaching, and interacting with people: the youth of today is eager to learn - and the stories within them are waiting to be let out. I just want to do my part in helping them share their stories and creativity. What I've seen these students at Fabindia School do in just a few weeks is remarkable. I have no doubt that these children will excel in any field they choose - all they need is a little help from us adults in giving them the right tools and resources to develop their creative skill set.'
If you are interested in bringing Launchora's Writing and Creative Skills Development Programme to your school or college, please contact us at 

[email protected]

 or visit www.launchora.com/schools
Related Articles

on Career Diary