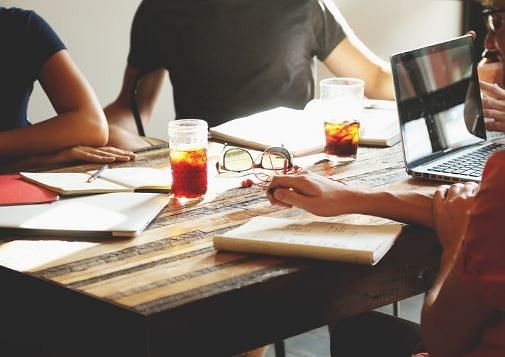 Make tea, make conversation and make sure you wash glasses before you leave -- the rules of this unconventional tea shop operating between 11pm and 2am in JNU may be simple, but the cause for which it was established is larger.
Called the 'Guerilla Dhaba', it is owned by nobody, run by volunteering students, and was set up by them as a mark of protest against the administration's decision to shut down canteens on campus at 11 pm over "security reasons".
The move, enforced by the Campus Development Committee in June this year, had attracted opposition from a large section of students who considered it a threat to varsity's night culture.
The then JNU Students Union, headed by Mohit Kumar Pandey, had organised a 'Tea Protest' against the decision.
Now, the one-week-old pop-up establishment -- with no roof, no seating, and a footpath for a home -- has brought back a measure of vibrancy and also hope for women students who would feel insecure walking down the deserted roads on campus at night.
"Women were not feeling safe on campus. Some women were stalked on deserted roads. Ever since the dhaba was started, there are always 30 to 40 students near the T-point, making the campus more lively and safe," said one of the dhaba's co- ordinators, Swati Simha.
According to her, the recent dissolution of the varsity's sexual harassment watchdog -- GSCASH -- was another trigger to start the dhaba.
Scores of students have now found an avenue for late night discussions over cups of tea priced at Rs 5 and are also volunteering to run the establishment located near the library on a rotational basis.
Reina Gattuso, another coordinator and an MA student at the School of Arts and Aesthetics, said, "Ever since the new VC took over, there has been major pressure from the administration to curtail democratic culture on campus. There is a threat to student politics, freedom of mobility and socialising. We wanted to counter all the attempts through this facility."
Setting up the dhaba is one of the various forms of protests that the students have resorted to in protest against the administration's decisions.
Last month, the JNUSU had given a mandate to the election committee of the disbanded the Gender Sensitisation Committee Against Sexual Harassment (GSCASH) to conduct elections, despite resistance from the administration.
Related Articles

on Career Diary