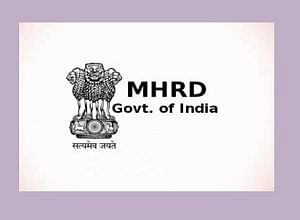 Students across the world will now be able to pursue the education in prominent Indian Educational Institutions.
In another ground breaking initiative of HRD Ministry, Union External Affairs Minister, Sushma Swaraj and Minister of State for HRD, Dr. Satya Pal Singh jointly launched the Study in India programme of HRD Ministry by launching the 'Study in India' portal (
www.studyinindia.gov.in
) in Delhi recently.
The integration of e-SANAD portal and NAD – National Academic Depository (of HRD Ministry), was also launched by Smt Sushma Swaraj on the occasion.
While addressing the occasion, Swaraj said the quest for knowledge has always been fundamental to India's culture and civilization.
Throughout our history, India has made seminal contributions to human thought, philosophy and development.
Our ancient philosophical concepts, such as Vasudeva Kuttumbakam and Sarva Dharma Sambhava, remain eternal.
The "Study in India" is an innovative initiative to attract students from our partner countries in South Asia, South-East Asia, Middle East and Africa to come and experience the very best of academic learning from the top institutions in India.
This will be achieved through systematic brand-building, identifying quality institutions for receiving the students, creating suitable infrastructure and facilitation structures.
The "Study in India Portal" will become a single window to cover all aspects relating to studying in India for foreign students.
In a video message on this occasion, Union HRD Minister Prakash Javadekar said 'Study in India' initiative will open the gates of prominent educational institution of India for foreign students.
He said that to begin with the focus is on students of 30 Asian, African, Middle East and Commonwealth of Independent States (CIS) countries and hope that families from America will send their children to India for under graduate courses one day.
India was the education hub of the world education with long heritage of Nalanda & Takshashila . Now, India is again surging ahead in education sector with more than 40,000 colleges & more than 800 universities.
Top most colleges have been granted graded autonomy.
Graded autonomy will help educational institutions to expand on their own; they can improve their programs, launch new programs as per the need.
They can take in foreign faculty & foreign students, the HRD Ministry added. Javadekar further said that because of the recent reforms in education sector, now India has become a prominent center for affordable and quality education.
While speaking on the occasion Minister of State for HRD, Dr. Satyapal Singh said that India believes in the theory of 'Vashudhaiva Kutumbkam with the rich history of educational institutions like Takshashila and Nalanda.
He said that with the integration of e-SANAD and NAD – National Academic Depository, the education system in India is now more transparent. Expressing gratitude towards the External Affairs Minister Sushma Swaraj for launching the Study in India portal, Dr. Satyapal Singh said that for the first time, prominent Indian Educational Institutions have been opened up under this programme which will be of benefit not only to the foreign students but also to India.
Delivering the welcome speech, Secretary (Higher Education) of HRD R Subrahmaniyam said that India is a place of wisdom and believes in knowledge without borders.
This year 15, 000 seats have been offered by 160 Institutions under the programme, the secretary disclosed. Dr. S B Majumdar, Founder President, Symbiosis International University was also felicitated by Sushma Swaraj on the occasion.
The Study in India programme would provide one stop solution through the creation of a centralised portal
www.studyinindia.gov.in
.
The website will be supported by an App and a Helpline number.
The website will not only provide information on the latest offerings on Indian education but also facilitate admissions to the foreign students and help them make informed choices based on individual aptitudes and career goals.
EdCIL (India) Limited, a Mini Ratna Category I CPSE is the implementing agency of the Ministry of HRD for the Study in India education campaign.
NIRF ranked and NAAC accredited institutions with a 3.26 score have been included in the programme.
The Study in India programme is a joint initiative of Ministry of HRD, Ministry of External Affairs, Ministry of Home Affairs and Ministry of Commerce and Industry.