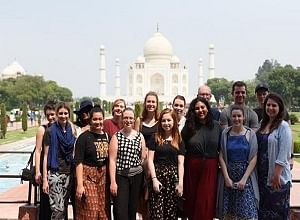 Students of Macquarie University, Australia are currently on an India study tour organised under the New Colombo Plan, initiative of the Australian Government that aims to lift knowledge of the Asia Pacific region in Australia and strengthen people-to-people and institutional relationships.
This study tour was organised by Macquarie University for its Faculty of Arts students and involved a three-week study program in close coordination with its Indian university partners, namely Lady Shri Ram College for Women in Delhi, The Tata Institute of Social Science in Mumbai and St Xavier's College in Kolkata.
Last year, in 2016, Macquarie University had signed an MoU for a student exchange programme with these institutions.
Over the three weeks, the students are travelling to New Delhi-Agra, Kolkata and Mumbai. The students are experiencing and learning about the culture and tradition of Indian societies.
Some of the highlights of their trip are attending a workshop on Madhubani arts and seminars on Indian Economy, Gender and Indian Society, Indian societies and politics, Minorities and Development in India, Campaign for Welfare Entitlements and Social Inclusion.
Apart from learning programs the students are also visiting prominent sightseeing spots such as Humayun's Tomb in Delhi, Taj Mahal in Agra and are travelling to Shantiniketan in Kolkata.
They are very excited about soaking in the spirit of the city during Durga Puja, the key festival of Kolkata city. In Mumbai, they will take a Heritage walk and visit Kanheri Caves.
Andrew Alter, Senior Lecturer in Contemporary Music Studies, Macquarie University, said that "The student exchange program between Macquarie University and its Indian counterparts not only enhances their education quotient, but also offers them an experience of different cultures and develops a deeper appreciation of our trading partners. In a more global world than ever before, this experience will enhance their personal and professional lives for years to come".
About Macquarie University, Australia
Established in Sydney in 1964, Macquarie University is consistently ranked amongst the Top 10 universities in Australia (ARWU, 2015) and Top 200 in the world (QS, 2015).
It is ranked amongst the top 100 in the world in nine disciplines (QS 2015 rankings by subject).
It was created during a time of extraordinary social transformation to be a different kind of university: it was, and will always be, a bold experiment in higher education.