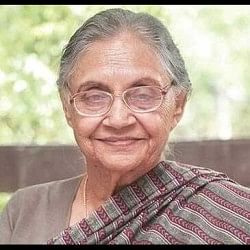 Former Delhi Chief Minister Sheila Dikshit passed away at 81 on Saturday 20th July, 2019 days. She was not keeping well for a long time. Sheila Dixit was admitted to Escort Hospital due to illness. 
The Senior Congress leader had completed her schooling from Convent of Jesus and Marry; and graduated with a master of arts degree in history from Miranda House, Delhi University.
Here are some important information related to Sheila Dixit's life and education
The former Chief Minister of Delhi Sheila Dikshit Passed away today, June 20, 2019. She was born on March 31, 1938, in Kapurthala, Punjab. Sheila Dikshit was the member of Indian National Congress. The senior Congress leader was former chief minister of Delhi for "Three consecutive terms" i.e., 1998-2013.

Sheila Dikshit was born on 31 March 1938 in Kapurthala, Punjab. She has two children. Son Sandeep Dikshit has represented East Delhi in the Lok Sabha
Talking about studies, his early education took place from the Jesus and Mary School of Delhi.

After this, he received Higher Education from the Miranda House of Delhi University.

In 1998, Sonia Gandhi made her the head of the Delhi Congress. She not only won the elections but also became Chief Minister of Delhi three times.
When asked, what is the biggest achievement of his tenure of 15 years, Sheila Dikshit says, 'First' Metro ', second' CNG 'and third Delhi's greenery, schools and hospitals. She said, "All these have a great effect on the personal life of the people of Delhi. For the first time, I got 'sanitary napkins' to bring girls to school. I made many universities in Delhi and also opened the 'triple IIT'".
 
In 2014 she was the governor of Kerala. She has been served as the chairperson of "Young women's" association as well
Various Departments she served in:
Higher Education
Training and Technical Education
Public Relations
General Administration Department 
Home Department 
Administrative Reforms
Legislative Affairs and Law & Justice
Services Department 
Art and Culture
Water Department
Vigilance Department 
Environment, forest and wildlife department