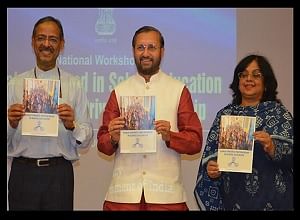 Setting an example in scaling up the quality of education in a public-private partnership, Aurobindo Society's Rupantar programme has in a short span been able to transform government schools across the country by harnessing the power of grassroots best teaching practices and empathy-based teacher enablement initiatives.
Rupantar, through its most effective projects Zero Investment Innovations for Education Initiatives (ZIIEI) and Project Inclusion, has been able to reach out to over one million teachers in the country and enhance their teaching skills, leading to holistic development of students.
ZIIEI focuses on empowering teachers to adopt and share small, yet effective methods to transform education in schools. It is supported by HDFC bank.
Project Inclusion aims to create an inclusive learning environment where students with neuro-developmental disorders are identified, acknowledged, respected and sensitively supported.
For both its programs, Rupantar has till now signed MOUs with 22 state governments separately.
ZIIEI is operational in 16 states in the country. It started from one state –Uttar Pradesh- in 2016.
Project Inclusion has been implemented in 9 states.
This was revealed during the national level workshop of NGOs, organised by the Ministry of Human Resource Development, held in Delhi on June 26.
The workshop was presided over by MHRD Minister Prakash Javadekar, who reviewed the work done by 15 NGOs in the last one year through state-NGO partnership in school education sector.
Speaking on the occasion, Anil Swaroop, MHRD secretary, said, "the central government plays the role of a facilitator to connect the state government and NGOs. The states open up substantially once they have the comfort that the NGO has the right credentials."
He had earlier in April this year during the MHRD regional review meeting appreciated Aurobindo Society's work in changing the face of education in the country, "I have personally gone to the field and seen what they (Rupantar) are doing and I was quite impressed."
Till now, ZIIEI has reached out to over 1 million government school teachers and trained them about the innovative methods in teaching that require no monetary investment.
Meanwhile, under Project Inclusion, 7,500 teachers have received special training and 4,000 possible cases of NDD have been identified by teachers.
This year, Rupantar ventured into the most volatile state Jammu and Kashmir and has been able to impart ZIIEI training to over 27,000 teachers in the Kashmir valley.
Abdul Rashid War, State Project Director, Sarva Shiksha Abhiyan, Jammu and Kashmir, who was present at the event, said that the training was initially stopped but started as it was much desired by the teachers in the valley.
"It is a good training and will definitely benefit us. Education cannot wait for anything. We would want this program to be scaled up to Jammu and Leh also," he said.
Presenting achievements of Rupantar during the workshop, Mayank Agarwal, head operations of Rupantar, said, "we have made tremendous achievement during the past one year and teacher's response and active participation in sharing and adopting the innovative ideas makes the programme a success. We will continue our endeavours till we are able to bring a positive change in the government school education in the nook and corner of the country."
About Rupantar
Rupantar is one of the world's largest ever programs to transform government schools by harnessing the power of the people and existing resources.
This multidimensional program has led to several large-scale innovative projects to empower teachers, gear up education officers, support students, increase parents' and community's participation, and technology enablement — all aimed to bring about mass-scale improvement in the quality and reach of education.  
Related Articles

on Career Diary