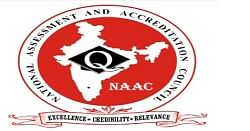 In a bid to remain relevant and globally acceptable,
National Assessment and Accreditation Council (NAAC)
has launched the Revised Framework which is more ICT intensive and 'outcome based'.
Over the last few months,
NAAC
has conducted several rounds of stakeholder interactions, a National Workshop and Meetings of several Working Groups for the preparation of the Manuals for Universities, Autonomous Colleges and Affiliated Colleges. The draft framework was pilot tested on select Higher Education Institutions (HEI's) across the country.
Details of the process and formats for submission of online Institutional Information for Quality Assessment (IIQA), Self Study Report (SSR), student satisfaction survey and fee structure are available on NAAC's official website
www.naac.gov.in.
Help Desk Contact No :
+91-080-23005192 / 23005193
Help Desk Email :
naachelpdesk@gmail.com