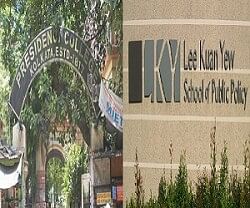 New Delhi
In a bid to train 30 civil servants from Bengal, the Presidency University has signed a MoU with Lee Kuan Yew School of Public Policy in Singapore.
While the MoU was signed on June 14, the training session will start after two months.
"The executive programme will be a first of its kind with any state-aided university in Bengal. The course will offer a mix of public policy and modules related to public affairs," said vice-chancellor of Presidency University Anuradha Lohia.
According to reports, the Presidency University will also start a school of public policy in the second campus at Rajarhat rom July 2018 onwards.
About Presidency University
Presidency University, Kolkata, formerly Hindu College and Presidency College, is a public state university located in Kolkata, West Bengal. The college was established in 1817 by Raja Ram Mohan Roy, Radhakanta Deb, David Hare, Sir Edward Hyde East, Baidyanath Mukhopadhya and Rasamay Dutt.