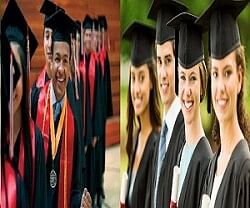 New Delhi
A week after IIT Kanpur students wearing kurta-pyjama and stole as the official dress the convocation ceremony in a bid to do away away with traditional gown, the Oxford University students rejected move to end the wearing of scholars' gowns.
Students vote heavily against the proposed move in Oxford University Student Union (OUSU) poll, reports the university newspaper 'Cherwell'.
While the two-day online poll on the unions' site started on June 21 after students raised the issue on the "inferior" and "elitist" notions that the gowns entailed, nearly 2126 students voted against the banning of the differential gowns in exams and 1214 voted in favour of the motion.
"For the first time students graduating from IIT Kanpur will be dressed in Indian attire. They will be wearing kurta-pyjama and carry a stole instead of a robe at our institute's 50th convocation ceremony. Our department of design is working on the design and the colour of the kurta-pyjama and stole. The idea is to promote Indian culture among future leaders who will be graduating this year from the prestigious institute," said Professor Indranil Manna, director, IIT Kanpur, before the convocation ceremony of IIT Kanpur.