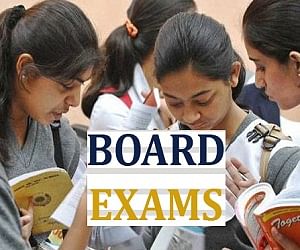 The HRD Ministry today issued an advisory to states and the CBSE to stop the practice of spiking of marks in class 10 and 12 board exams from next year.
However, there has been no decision yet on the moderation policy and the practice is likely to continue.
The practice of awarding grace marks will continue for the students who need just a few marks to pass their exams, but this information has to be disclosed on the school and the state board's websites.
"Bunching of marks and their spiking should be completely avoided. The practice of awarding grace marks should continue to pass their borderline cases (students who are failing by a few marks)," the advisory issued by School Education Secretary Anil Swarup said.
Moderation policy refers to a practice in which students get extra marks in subjects regarded as 'unusually difficult', or if there have been differences in the sets of question papers.
Spiking on the other hand refers to inflation of marks by boards in order to bring parity in pass percentage with respect to the previous year's statistics.
The Central Board of Secondary Education (CBSE) and 32 other boards had developed a consensus on scrapping of the moderation policy in a meeting on April 24.
However, the Delhi High Court had asked the CBSE to not scrap the policy, saying it is not advisable to implement the change mid-way.
The Centre has also set up a panel to ensure uniform marking for students appearing for class 12 exam in 2018 by asking schools boards across India to stop "inflating marks" under the "often abused practice" of moderation leading to unusually high scores.
The panel -- Inter Board Working Group (IWBG) headed by CBSE chairperson Rakesh Chaturvedi with members from Gujarat, Jammu and Kashmir, Kerala, Telangana, Chhattisgarh, Manipur and the Indian Certificate of Secondary Education (ICSE) boards -- will address issues arising from the decisions taken in the April 24 meeting.