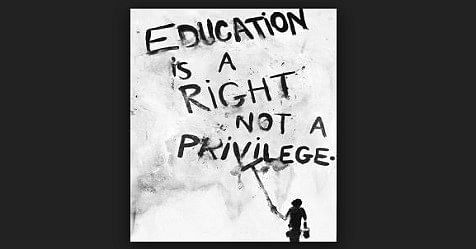 Maharashtra government will ensure that no student from the economically weaker sections (EWS) remains without admission under the Right To Education (RTE) Act, Minister for School Education Vinod Tawde said.
Speaking in the Legislative Council, Tawde said the government would take steps to resolve a dispute with private unaided schools on the issue of reimbursing their RTE admission amounts.
Replying to a debate raised on the issue by Congress' Sanjay Dutt, Tawde said, "If any school does not implement the provisions of the RTE and refuses to admit such students, appropriate action will be taken against the school." 
Earlier, raising the issue, Dutt argued that due to the tussle between the state government and private unaided schools, thousands of students, eligible for free education under the RTE Act, had been left in the lurch.
"Private unaided schools are rejecting seats allotted to these students stating that they would not be able to admit them this year unless the state government reimburses the pending grant amount for admissions in previous years," Dutt said.
He added that the Federation of Schools Association of Maharashtra had said that dues to the tune of Rs 600 crore were pending from the government.
Giving further details, the Congress MLC said, "This year the intake capacity of students was 8,341 seats in private unaided schools. But so far only 1,299 students were given admissions, although 3,239 applicants were allotted seats in the first round reserved for EWS students under the RTE Act." 
Dutt demanded that the state government take urgent steps to resolve its dispute with schools on the issue so that students get admission. He also said that appropriate action should be taken against schools for not fulfilling their obligation to admit these students.