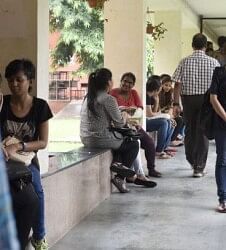 The Mumbai University which is in the eye of storm for continuously pushing its deadline of declaring results will now change the title of its economics department to Mumbai School of Economics and Public Policy.
The decision was taken today in the state cabinet. The proposal was moved by the Mumbai University which was approved by the state cabinet along with sanctioning of Rs 25 crore for the department as a provision for next five years, stated the official communication of the Maharashtra government.
The Mumbai University in its statement issued today said the move to change the title is an attempt to take the department to a global level.
It is to gain a world reputation for the department.
There will be modern courses and research on quantitative finance, data science, analytics and public policy, to name a few, it said.
The curriculum of this department, which is an autonomous body, is considered as one of the world-class courses in economics.
On the lines of the Kennedy School of Government, a course of MA in Public Policy will be prepared by keeping in the mind the local context of the country and reality.
The department, with the help of National Institute of Securities Markets, will run a course of Post Graduate Diploma in Quantitative Finance, it said.
The department will provide a post graduate and under graduate diploma in Quantitative Finance, it said.
The state cabinet also approved various benefits for Navi Mumbai International Airport project affected persons in the meeting.
It also decided to amend Maharashtra Agriculture Produce Marketing (development and regulation) Act to give extension to administrator or board to complete the process of giving voting rights to farmers.