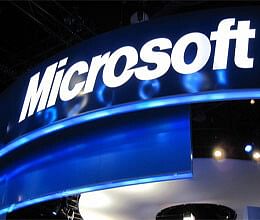 IT giant Microsoft has planned to establish 100 Microsoft Innovation Centres in the country over the next two years.
The innovation centres will act as "innovation hubs" at select colleges and technology institutes, providing incubation and expert hands-on support on Microsoft technology, research and software solutions, to create student technology experts, a company statement said.
As a first step, the company has signed MoU with academic institutes across four states to set up 75 such innovation centres. Microsoft aims to launch 100 Innovation Centres in the country over the next two years, it said.
The innovation centres will cover five lakh students country-wide, it said, adding about one lakh students will be certified on Microsoft technologies.
"The programme will also drive innovation and help build a product-based software economy by supporting product development and over 500 start-ups", it said.
The Innovation Centres would operate on a hub-and-spoke model. The first 14 innovation centres proposed to be set up are in Hyderabad, Vijayawada, Rajahmundry, Khammam, Bapatla, Guntur and Tirupati in Andhra Pradesh, Raipur in Chhattisgarh, Bhopal in Madhya Pradesh, Tiruchirappalli, Vellore, Coimbatore, Madurai and Salem in Tamil Nadu.
"The Microsoft Innovation Centres are designed to offer a unique environment conducive for student entrepreneurship. The Microsoft Innovation Centres can play a vital role in generating powerful new ideas through training, education and knowledge transfer", Microsoft India, General Manager (DPE), Joseph Landes said.
The announcement by Microsoft comes after the India launch of company''s new initiative, YouthSpark, aimed at addressing the opportunity divide faced by the young people of the world, the statement added.