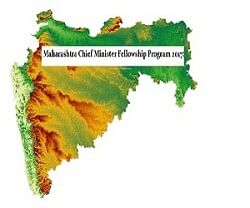 New Delhi
Applications are invited for the Maharashtra Chief Minister Fellowship Program 2017. Organised by Maharashtra government, the programme is for graduates (any discipline) who have secured first class. The selected candidates will get a stipend of Rs 35000 and travel allowance of Rs 5000.
The programme is designed to provide a meaningful experience to youth interested in social development sector. It is designed to cultivate young leaders, strengthen their understanding of the public administration and prepare them for greater leadership roles in future.
Eligibility:
Applicant must be between 21 and 26 years of age as on April 1, 2017 (having birth date between 02/04/91 and 01/04/96)
Applicants should be graduate (any discipline) who have secured first class (Postgraduate degree or professional diploma would have an added advantage).
The candidate should have work experience of minimum one-year;
The applicant should have basic proficiency in Marathi language and computer savvy.
Last date of Application: June 22, 2017
Visit: mahades.maharashtra.gov.in/FELLOWSHIP/english/index.html