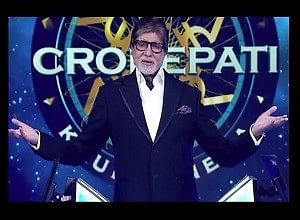 There is always a restriction made to the children not to watch television.
The reasons are usually: it is bad for eyesight, negative influence, behavioral issues and many more.
Even many people agree to it. But have you ever thought that children only learn what they see?
So why not change the channel instead of the source.
Generally, before 2000 we usually saw families sitting together in front of a TV only during a match.
But in 2000, a show started -- Kon Banega Crorepati which brought the families together every day, which changed the ways of learning, which proved to be the pathway for knowledge just by sitting in front of the TV and created a platform in which the audience itself is the knowledge source as well as the knowledge seeker.
It's a platform which has presented wings to many people not based on their looks or their dialect or their style on what people mostly judge on but their knowledge.
Through this show, not only children but every age group started getting involved to learn in a fun way.
This quiz show is hosted by Amitabh Bachchan in which a person is asked multiple choice questions and in return of his correct answers, he'll be awarded money. If stuck in between they could use various lifelines provided.
So this show became very popular among the families, as anybody sitting home could make guesses and enjoy the game. Slowly children started enjoying this more than class.
Not only students but businessmen, retired officers, people preparing for national level exams, people from almost every field started coming to the show. Every day became interesting as something could be known. But a bigger impact by this show was made on children who watched it.
Let's see how children got benefited from it
Knowledge:
but obvious, children acquired knowledge from it not forcefully but willingly. It gave a new way of teaching to the children.  Children are very good at grasping things, so they don't tend to forget easily and even recall what they learned whenever required.
Curiosity:
there are so many questions asked in the show that if a child doesn't know something he quickly searches it on the net. Every question has four choices, children get very curious to know about all four and creating links with the question.
Point of View:
it has helped to change the point of view of the children and the way of thinking as there are many questions that have different angles. So a child builds a broad point of view and makes every possible way to reach to the answer.
Various fields:
through this show children not only learn general knowledge but in-depth knowledge of a particular field. As there are many people who come and play in the show so accordingly the questions are asked according to their field.
Self Awareness:
unknowingly when a child answers a question while even the answer is correct in the show, the level of excitement on his face is priceless but the inner confidence which he gets is also unbeatable.
That small question boosts up his confidence and also makes him aware of his own subconscious mind.
Knowingly or unknowingly Kaun Banega Crorepati has contributed its part in the basic education of a child and it has proved to be one of the shows where your position, your looks, your personality nothing matters, what matters is your knowledge and your interest of learning.    
Related Articles

on Career Diary