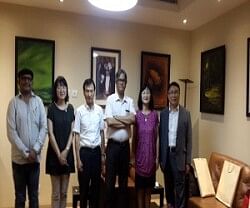 New Delhi
From the new academic year, Jamia Millia Islamia (JMI) will be launching Korean Language programme. JMI has signed Memorandum of Understanding (MoU) with the Korea Foundation to teach certificate and elective courses in Korean language at the university. Korea Foundation has appointed a Korea Foundation Visiting Professor for the teaching of these courses.
The delegation from the Academy of Korean Studies called on Talat Ahmad, vice chancellor, JMI and extended support to strengthen Korean Studies in JMI. The delegation comprised of vice president of the academy professor Shin, Jong-Won, professor Do-young Kim, Korean Foundation visiting professor and Kyung Rhan Chung, director, Centre for International Affairs and other colleagues from the Academy.
On the occasion, Talat Ahmad thanked Korea Foundation and the Academy of Korean Studies for extending unstinted support to JMI in this regard and proposed launch of these courses. He also mentioned about the collaborations with Korean institutions, will give new dimension to the existing academic cooperation between the institutions of learning which would be in sync with growing bilateral ties between India and Republic of Korea.