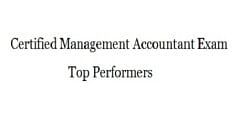 Institute of Management Accountants (IMA) today announced the top performers from India for its flagship program called the CMA (Certified Management Accountant). Across the globe, IMA conducts CMA exams three times in a year during the months of January and February; May and June; and September and October.
This year, from its May and June testing window alone, a total of 5,904 candidates took the English language exam globally. The exam results were sent to the exam takers in August. Among the professional pool of CMA candidates from India, Richa Gupta from Faridabad, Haryana got the highest score.
"The CMA course structure seemed very relevant to my role in my current organization. The practical approach and wide acceptability of this certification across the world are some of the key points that led me to pursue this course," Gupta explains her decision to pursue the CMA program. "Five years from now, I see myself to be heading the Financial Planning & Analysis (FP&A) division of my current organization. The CMA title being associated with a high degree of ethics and competency will help me achieve my goals faster," adds Gupta who is currently working as a FP&A manager.
Meanwhile, among the pool of college/university students who took the CMA exam during the same testing window, Yash Majajay Patani from Mumbai emerged as the top performer.
"The most challenging part for me was internal controls as I did not have practical experience. I am hoping to pursue a career in treasury and management. With my exposure to 11 different skills, multiple facets of finance and accounting work, plus the global recognition of the CMA certification, I should be able to propel my career forward now that I am ready to join the workforce," Patani explains in a telephone interview.
Patani graduated from the University of Mumbai with a Bachelor of Commerce degree. He is now a young professional actively seeking for an opportunity to apply the skills he learned from the CMA program.
In the Middle East, Suryaneel Kumar, a Non-Resident Indian (NRI) also achieved the highest score among professional test takers in Oman.
"I pursued the CMA for its global recognition, course content and rigorous testing/exam. I would like to see myself in a senior management role shortly. I am confident that the CMA will help me achieve this goal," says Kumar who works as a senior finance manager in Oman.
It can be recalled that from its January and February 2017 testing window, two students from India received awards for their exceptional performance in the CMA exam globally. In the university student category, Hariharan Ramasubramanian who has an undergraduate and graduate degree in Accounting from the University of Mumbai earned the Priscilla S. Payne Outstanding Student Performance Award for receiving the highest exam score as a student. Abhishek Kapoor of New Delhi also received a Student Certificate of Distinguished Performance.
About the CMA
IMA 's globally recognized CMA program is a relevant assessment of advanced accounting and financial management knowledge in 11 critical areas, including financial planning, analysis, control, and decision support. For more information about the CMA certification program, please visit http://www.imanet.org/certification.
About IMA
IMA, the association of accountants and financial professionals in business, is one of the largest and most respected associations focused exclusively on advancing the management accounting profession. Globally, IMA supports the profession through research, the CMA program, continuing education, networking and advocacy of the highest ethical business practices. IMA has a global network of more than 90,000 members in 140 countries and 300 professional and student chapters. Headquartered in Montvale, N.J., USA, IMA provides localized services through its four global regions: The Americas, Asia/Pacific, Europe and Middle East/India. For more information about IMA, please visit http://www.imanet.org.
Related Articles

on Career Diary