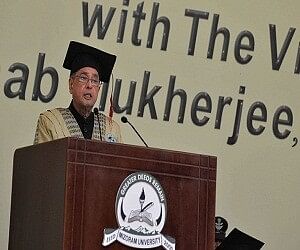 India will lose its demographic "dividend" to a demographic "explosion" if it does not train its youth in the skills required to operate in the future world, President Pranab Mukherjee said on Sunday.
While intearcting with the students of ''Bapu Gujarat Knowledge Village and Samarpan Education and Research Campus'', he urged students to work hard and "contribute" towards the advancement of the society, to which they belong and come from.
Mukherjee asked students to become the "agents of change" and work diligently as he said education was the basis of an advanced society.
"The demographic dividend that we have will turn into demographic explosion if we do not train them (youth) with necessary skills required for the future world," he said.
The President said it was a matter of concern that no Indian institution of higher learning figures in the top 200 universities when global rankings are done.
He said the Indian economy was growing fast and India has "overcome that stage", adding that we must celebrate our diversity as India functions under one flag and one constitution.
Mukherjee also expressed confidence in the capabilities of the Indian youth, saying the country''s young talent does not "carry any baggage" and the world belongs to them.
The President is on a two-day tour to Gujarat. He had arrived in Gandhinagar yesterday.