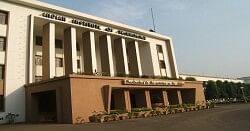 New Delhi
In a bid to increase enrolment of students, IIT - Kharagpur is all set to make students and teachers aware of free online courses offered by National Programme on Technology Enhanced Learning (NPTEL).
"The biggest problem for NPTEL courses is that not only the students from Eastern India, but also the colleges and universities in the region are not aware of it," Anupam Basu, coordinator of NPTEL at IIT-KGP, was quoted saying by NDTV.
What is NPTEL?
NPTEL is a joint initiative of the IITs and IISc. NPTEL as a project originated from many deliberations between IITs, Indian Institutes of Management (IIMs) and Carnegie Mellon University (CMU) during the years 1999-2003. The basic objective of science and engineering education in India is to devise and guide reforms that will transform India into a strong and vibrant knowledge economy. In this context, the focus areas for NPTEL project have been i) higher education, ii) professional education, iii) distance education and iv) continuous and open learning, roughly in that order of preference.
NPTEL Courses
NPTEL offers the course content in-depth and as taught in the IITs, which will provide any candidate who goes through it, a solid foundation and understanding of a topic. For July-November 2017 session, 159 courses are currently open for enrolment on the portal (https://onlinecourses.nptel.ac.in).