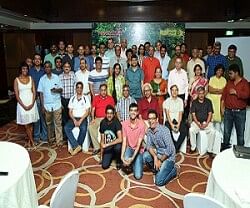 Kolkata/ New Delhi
The top business schools have been using the dispersal of their students during summer internships as a means to establish good connect with the Alumni across the country and beyond from decades.
However, Indian Institute of Management (IIM) Calcutta has a unique proposition for the way it is done.
Read:
SBI PO Main Result 2017 Declared
"Apart from finance, IIM Calcutta is famous for its unique student culture where the bonding between the batches reaches an entirely new level. We have been leveraging the same culture to establish a better connect between the current batch and the Alumni. Even the Alumni who graduated 30 years back enjoy the inter hostel rivalries which continue till date," explains Shubham Ranka, the current Alumni Secretary.
Also Read:
CBSE Class XII Compartment Examination 2017 on July 17
Various alumni chapters of IIM Calcutta held their annual congregation Nostalgia 2017 recently. Various batches of successful alumni across cities attended formal get-togethers and inspiring discussions at scheduled venues. The current batch of students of IIMC joined in the event and got the opportunity to meet with the distinguished alumni who are now high ranking business leaders holding various esteemed positions in the country.
The students and alumni also engaged through live music concerts which are usually conducted by the members of BaroC band in the campus, deriving its name from the 12C bus which was the only bus to reach Howrah in olden days.