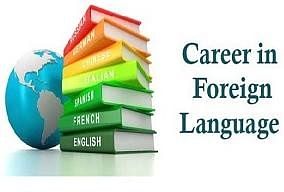 The new trend to learn different languages has begun. The demand for skilled professionals in a foreign language has also increased rapidly.
It also generates employment. Foreign language experts are getting global exposures. That is why most of the students are opting for foreign language courses. 
Mainly, students are opting for French, German, Russian, Germany, Japanese, Chinese, Korean, Spanish language courses. 
The universities of Punjab are getting maximum applications for the same.
According to the research, People with knowledge of foreign languages are getting the best opportunity. These people's salary packages are also good as compared to others.
Courses and Qualification of Foreign Language
The Punjab University provides these courses of a foreign language:
-
Postgraduate Degree in a foreign language
-
Advanced Diploma course of 3 Years
-
Diploma course of 2 years
-
Certificate course of 1 year
-
Class 12th pass can apply for these courses.
In some department, applicants have to qualify the entrance exam for admission. Some departments enrol on a merit basis. There are different eligibility criteria for admission in different courses.
For studying a foreign language, students should have good command over one language. It can be Hindi or English or any other.
Better salary package for foreign language professionals
Foreign language professionals have the best opportunity. They can go to abroad as a 'Researcher'. It is also beneficial for further studies in foreign countries.
Foreign language professionals can teach in their own country. The central schools and privates schools are also taught a foreign language at the secondary level.
Government or Private Sectors are also appointed 'Translator' and 'Interpreter' with a good pay scale. A Translator's salary started with Rs.20,000 to 30,000. Interpreters also get Rs.40,000 to 50,000 per month.
For the same work in foreign countries, foreign language professionals are getting millions of rupees per month.
As a freelancer, most of the people earn money by working from home. As a guide in the Hotel and Tourism Industry, they earn Rs.1000 per day.
In these sectors opportunities of jobs are available
For foreign language professionals, there are a lot of job opportunities in Government or Private Sectors.
Foreign language experts can get the opportunity in:
- Embassy
- Government department
- Tourism industry
- Hospitality sector
- Entertainment industry
- Public relation
- Advertising
- Publishing industry
- Aviation Sector
- FMCG industry
- Academic institution
- BPO
- Call centre
- The banking sector has a great demand for foreign language experts
- Foreign newspapers or news channels are also appointed foreign language experts
- Foreign language experts can become an online content writer or technical translator
Punjab University is Provided with these Foreign Courses:
Department of German
There are 100 seats in the Department of German. Students who have qualified class 12 can apply for admission. The German language is also popular in Switzerland. Germany and Switzerland are considered centres of business in Europe. So, learning this language is important in terms of business.
Department of French
There are 200 seats are available in the department of French. Students can apply for admission.  There are lots of possibilities for a career in the French language. French-speaking peoples are living in more than 40 countries across the world. It is the language of G8 countries. It has official status in the United Nations. Most youths have opted for this course. Last time, more than 1100 applications were received.
Department of Chinese
A lot of application has received for a certificate course in the Chinese language. There are also many job opportunities available. China is a big country in terms of business. China-India businesses are growing rapidly. In such a way, learning Mandarin can be a high-paying job. Mandarin is spoken in Hong-Kong, Macau and Taiwan.
Department of Russian
About 100 applications have been received over 114 seats for the Certificate course. In the foreign language department, some seats are reserved for NRI students. Any students who have qualified class 12 can apply for admission in it. Along with these courses, Punjab University also taught Urdu, Tibetan etc., language courses.
Related Articles

on Career Diary