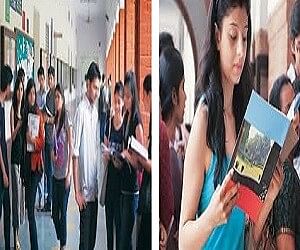 New Delhi
Delhi University will start registration for admissions to entrance based under graduate courses today.
According to a press release issued by the university, the application process for 9 courses would begin today at 6:00 pm.
The nine courses for which entrance exam will be conducted this year as follows:
Bachelor of Management Studies (BMS)
Bachelor of Business Administration (Financial Investment Analysis)
B.A. (Hons.) Business Economics
B.A. (Hons.) Humanities and Social Sciences
Bachelor of Elementary Education (B.El.Ed.)
Bachelor of Science in Physical Education, Health Education & Sports: B.Sc. (P.E., H.E. & S.)
B.A. (Hons.) Multimedia and Mass Communication
B.Tech. (Information Technology and Mathematical Innovations)
B.A. (Hons.) Music
About Delhi University
The University of Delhi (UOD) informally known as Delhi University (DU) is a public central collegiate university, located in New Delhi, India.The University of Delhi was established in 1922 as a unitary, teaching and residential university by an Act of the then Central Legislative Assembly of the British India.