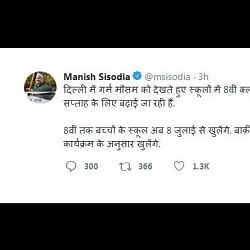 The Delhi government has extended the summer vacation in Delhi schools till July 08, 2019 for students up to 8th class. The Delhi Deputy Chief Minister and Education Minister Manish Sisodia declared the extension of summer vacation on Sunday, June 30, 2019, one day prior to the opening date of schools. The summer vacations had started on May 12 and were scheduled to end on July 1
According to Minister Manish Sisodia, In a view to hot weather conditions in Delhi, the summer vacations of students up to class 8 are being increased for one week. The schools for 8th class will be opened from July 08, 2019. While The school for the remaining classes will open according to its predetermined schedule.  
To read in detail
click here
According to reports, the decision to extend the summer vacation has been taken in view of the prevailing hot weather conditions in the national capital. The temperature in the national capital is above the normal this year. These days the temperature is above 43 degree Celsius in Delhi, which is eight degrees above the normal. "The humidity level oscillated between 28 and 55 per cent", the Meteorological department said.  
Related Articles

on Career Diary