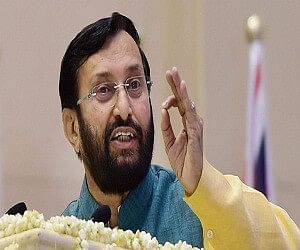 New Delhi
With mass cheating reports increasing in Uttar Pradesh, Union Human Resource Development Minister Prakash Javadekar has reportedly said that the state has become a safe haven for cheater cocks.
"There are many challenges (in education) in UP. Copying in exams here has become an industry. People even climb up multi-storeyed buildings to hand over chits to candidates," Javadekar said while referring to mass cheating during Uttar Pradesh board exams.
In a bid to detect foul play by copying mafia, the Uttar Pradesh Board of Secondary Education will summon unchecked answer sheets from sensitive districts and get it evaluated by specially-appointed examiners.
The report comes weeks after the Uttar Pradesh Board launched Whatsapp Number (9454457241) for registering complaints to prevent students using unfair means during exam.
While the class X English exam was cancelled last month, the question paper was reportedly circulated via Whatsaap.
UP Chief Minister Yogi Adityanath has instructed police officials to book private teachers who force students to take tuitions. The CM conducted also conduced a meeting with state educaion department officials to find out solutions to stop mass cheating during boad exam.