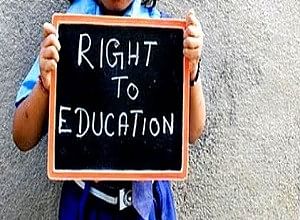 The Centrally Sponsored Scheme of Sarva Shiksha Abhiyan (SSA) has an inbuilt concurrent evaluation and monitoring system.
The Ministry of Human Resource Development (MHRD) convenes periodic meetings with State Education Ministers and Secretaries to review the programme.
SSA is also reviewed every year by a Joint Review Mission comprising of independent experts.
Educational data is collected through a Unified District Information System for Education (UDISE) every year to assess the progress. 
A National Achievement Survey (NAS) across all States and UTs was conducted on 13.11.2017 to assess the learning achievement of students of classes 3, 5 and 8.
The status of these evaluations and monitoring is placed in the public domain on the Ministry's website.
An independent evaluation of the Scheme was conducted in 2017-18. It has pointed out that SSA has achieved considerable success in universalising access and strengthening of infrastructure in schools.
It has appreciated the enhanced focus of SSA on quality of education in recent years.
It has suggested capacity building of district-level institutions engaged in planning and implementation of the Scheme.  
The annual plans under SSA are prepared by the States and UTs based on their requirements and priority and this is reflected in their respective Annual Work Plan and Budget (AWP&B).
These plans are then appraised and approved/estimated in consultation with the States and UTs as per the programmatic and financial norms of the scheme and availability of budgetary resources.  
Since inception of SSA in 2000-01, opening of 3.64 lakh new elementary schools, construction of 3.12 lakh school buildings and 18.87 lakh additional classrooms, 2.42 lakh drinking water facilities, 3.94 lakh boys toilets, 5.17 lakh separate girls' toilets, 1.40 lakh Children with Special Needs (CWSN) toilets and 19.33 lakh teacher posts have been sanctioned to States and UTs.
Out of this, 3.59 lakh elementary schools have been opened, 2.94 lakh school buildings and 17.97 lakh additional classrooms, 2.35 lakh drinking water facilities and 9.95 lakh school toilets have been constructed and 15.16 lakh teachers have been recruited as on December 31, 2017. 
The Government of India has taken several initiatives to facilitate the implementation of the SSA to meet the objectives of the RTE Act and to ensure universalisation of quality elementary education in the country.
In order to focus on quality education, the Central RTE Rules have been amended on February 20, 2017 to include reference on class-wise, subject-wise Learning Outcomes.
The Learning Outcomes for each class in Languages (Hindi, English and Urdu), Mathematics, Environmental Studies, Science and Social Science up to the elementary stage have, accordingly, been finalized and shared with all States and UTs.
These would serve as a guideline for States and UTs to ensure that all children acquire appropriate learning level.
A National Achievement Survey (NAS) was conducted on 13th November, 2017 through which the learning levels of around 22 lakh students of Classes III, V and VIII from 1.10 lakh schools across 700 districts in all 36 States and UTs were assessed.
This competency based assessment was based on the Learning Outcomes developed by the NCERT.  
District report cards (provisional) for NAS 2017 have been released by this Department and are available on MHRD website.
Through NAS it is for the first time that the teachers have a tool to understand what exactly the child should be learning in various classes, how to teach this through activities and how to measure and ensure that children have reached the required level.
The RTE Act, 2009 was amended in 2017 to ensure that all teachers acquire the minimum qualifications prescribed under the Act by 31st March 2019 to reinforce the Government 's emphasis on improvement of quality of elementary education.
The National Institute of Open schooling (NIOS) has been entrusted to conduct this training through Open Distance Learning (ODL) mode.
The Shagun portal has been launched to create a repository of best practices from the states and UTs and to enable online monitoring of implementation of the various interventions under the programme. 
This information was given by the Minister of State (HRD), Upendra Kushwaha recently in a written reply to a Lok Sabha question.