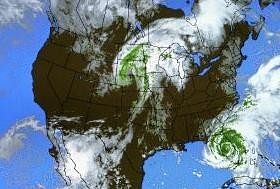 As soon as we check our phones every morning there is mostly a notification that pops out showing us the climate report. many of us tend to ignore it but many people have a habit to make the following day plan accordingly. 
It is no more an era where we believe that the weather or climate is only restricted to farming or one field. In this era of a satellite, meteorology plays an important role in relieving the tsunami storm, from airline flights, transportation of ships to the movement of sports grounds.
Supporting to this weather sciences are offering a good career to government departments, meteorological prediction labs, space departments and television channels. 
Meteorology is a sub-discipline of Atmospheric science that mainly focuses on weather processes and forecasting. The field includes both weather and climate and is concerned with the physical, dynamical (a force producing change or motion), and chemical state of the Earth's atmosphere and interactions between the atmosphere and the Earth's surface.
If you are interested in air, cloud, sea, rains, haze, fog, storm and electricity, the field of meteorology will not only serve the curiosity of these areas but also provide a brilliant career.
This area is so vast that according to its interest in studying in this field, multi-dimensional careers can be made in the field of operations, research and applications. 
Under the operation, the weather is predicted by gathering information related to weather satellites, radars, remote sensors and air pressure, temperature, environment, humidity.
This prophecy protects fishermen and sea-run ships by storm and cyclonic winds in the sea, protecting them from loss of life and property. To make a career in this field, specialization has to be achieved in climatology, marine meteorology and aviation meteorology.
There is great potential in the meteorology for research work. On the basis of the weather, satellites are sent in space, crops are assessed and now at the playground, the players decide whether to play or not play after knowing the weather conditions.
Meteorological researchers analyze special components of weather, air, humidity, temperature related information and data, and decide how the weather patterns will be.
The demand for atmospheric knowledge has increased. There are many such universities and institutions in the country which give degree, diploma and PhD in meteorology. The candidates interested in making a career in meteorology can do a one-year diploma in meteorology as well as bachelor and postgraduate degree in meteorology and ocean science.
Now you can also make a career from shipping to Aviation and even Remote Sensing. Not only this, but you can also get into the army as a weather advisor. To make a career in this field, you must have good grades and interest in science.
Meteorology Eligibility Criteria
Below are given names of a few courses and their minimum qualification: 
M.Sc in Meteorology
Eligibility: B.Sc in Physics/Chemistry or any other relevant branch of science. 
Diploma in Meteorology and Atmospheric Sciences
Eligibility: M.Sc in Meteorology
B.Tech Meteorology/Atmospheric Science
Eligibility: + 2 Science with Physics, Chemistry
M.Tech Meteorology
Eligibility: B Tech or M.Sc in Meteorology or any other equivalent discipline 
PhD
Eligibility: Masters degree in Meteorology/Atmospheric Science or allied field.
Meteorology Career Prospects
- Here is a list of few institutes/organizations in India where meteorologists can find jobs - 
- Indian Institute of Tropical Meteorology
- India Meteorology Department
- Indian Air Force
- Space Application Center
- National Remote Sensing Agency
- Defense Research and Development Organization
- Indian Space Research Organization
Meteorology Pay Package 
Meteorology is one of the rarest fields of science, so there are very fewer people who aware of it and even less who opt for it. 
However, the career is challenging but on the other is rewarding. 
Salary of a meteorologist/scientist depends on his qualification and experience. The Indian Government offers a handsome salary to qualified meteorologists/scientists. It varies between Rs 10, 000 – 25, 000. 
One with outstanding knowledge and experience can also find a job in abroad. There the salary does not become a factor. The US government offers an annual package that varies between $19,081 and $69,300.
Here are the institutions which focus on the subject. 
Bharathiyar University
Course: M.Sc. in Meteorology
Punjabi University, Patiala
Course: Diploma in Meteorology and atmospheric physics
Eligibility: MSc 
Cochin University of Science and Technology
Course: M.Sc. (Meteorology) &M. Tech after M.Sc.
MS University of Baroda
Course: M. Sc. Meteorology 
Andhra University
Course: M.Sc. Oceanography & Meteorology 
IIT Kharagpur
Course: M.Tech program in Earth Science
Eligibility: Master of Science in Atmospheric Science/ Earth Science/ Geology/ Geophysics/Marine Geology/ Marine Science/ Mathematics/ Physics.
Bachelor degree in Engineering or equivalent in Aerospace Engineering/Agriculture Engineering/ Civil Engineering/ Earthquake Engineering/ Environmental Engineering/Ocean Engineering & Naval Architecture.
Indian Institute of Technology (IIT), Delhi
Course: B.Tech and Pre PhD in atmospheric science
Eligibility: +2 Science pass for BTech program (admission through IIT-JEE)
People say you don't find jobs in air, ocean, clouds, but if you understand and study them well, it can get you very interesting job opportunities.
Related Articles

on Career Diary