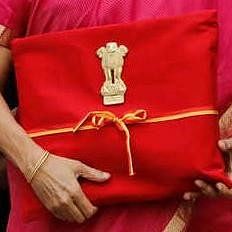 In Modi Government 2.0's first budget, another historic move has been made. The first full-time Women Union Finance Minister Nirmala Sithraman replaces the traditional Budget Briefcase with a 'Red Cover'.
The briefcase of the budget has converted into 'Bahi-Khata'.
According to Chief Economic Adviser Krishnamurthy Subramanian 'Bahi-Khata' symbolises the departure of slavery from our western thought. This is the very first time that red cover is being used to carry the budget documents.
History of the 'Budget Briefcase'
From the past 15 years, the Budget briefcase had been used to carry the budget documents to the Parliament. The word 'budget' came into English use in the 15th century via an old French word 'bougette' (Little bag).
The iconic budget red box was produced around 1660 for William Gladstone, who served as a Chancellor of the Exchequer before becoming the Prime Minister of Britain.
It is thought that the red colour was introduced on the command of Prince Albert, to match the dominant colour in his family's coat of arms.
In India, RK Shanmukham Chetty presented the first budget in the year 1947. He appeared to carry a leather bag. TT Krishnamachari, ten years later carried something that looked like a file bag. Jawaharlal Nehru presented the budget in 1958 with a black briefcase.
After that many ministers carried the same briefcase, such as;
Former Prime Minister Manmohan Singh, as the finance minister who delivered the iconic 1991 proposals, carried a black bag. Yashwant Sinha carried a black briefcase and Arun Jaitley and Piyush Goyal, who presented the interim Budget on February 1, 2019, also carried the 'red briefcase'.
Earlier, Nirmala Sitharaman, India's first full-time finance minister, ditched another tradition. During the customary halwa ceremony before the Budget Session, she untied the red ribbon instead of cutting it; officials said she believed cutting a ribbon is not considered auspicious.  
Related Articles

on Career Diary