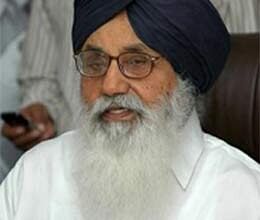 The Punjab government would soon introduce a post-matric scholarship scheme for meritorious students in the state, Chief Minister Parkash Singh Badal today informed the state Assembly.
Under the Dr Hargobind Khurana Post-Matric Scholarship scheme, Rs 30,000 per annum would be given to meritorious government school students regardless of income limit, who secure 80 per cent or above, he said.
Badal said under this scheme Rs 2,500 would be transferred into the bank accounts of the students every month so as to enable them to compete with their peers in convent and private schools.
The state government was taking initiatives for imparting quality education to the students of weaker and unprivileged sections in the government schools, he said.
He said special schools were being opened in six districts of the state to impart quality education.Earlier, Charanjit Singh Channi of the Congress drew the attention of the Assembly towards "pathetic condition" of government schools.
Badal, too, admitted that government schools are facing shortage of staff. Channi said it is ironical that no politician is in favour of getting his wards education in government schools.